Best and Cheap Composite C1 5.1 Hosting
Composite C1 CMS is a fully featured free open source web Content Management System developed for (and by) web professionals who focus on customized websites and content. The user interface is very functional and task oriented and enables users of varying skills to effectively complete tasks and cooperate using familiar tools.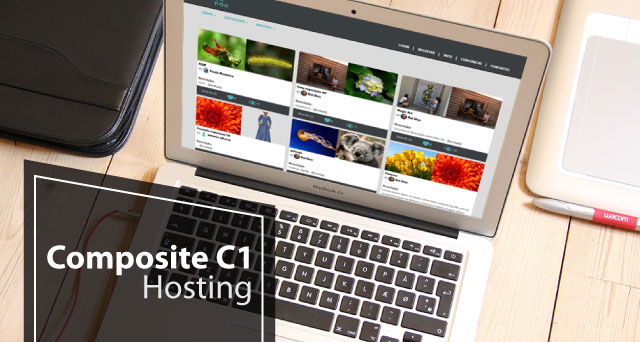 At Composite C1 5.1 you can schedule your data publication, enhance password security for your C1 Console logins, work comfortably in an RTL-based UI, resize images with Razor and do it all much and much faster.
What is New in Composite C1 5.1?
Version 5.1 is a service release, which brings bulk publishing, time zone support and UI enhancements to users, fixes for issues found in the v5 release and other minor improvements and optimizations.
With v5.1 developers can override the UI and logic used for add/edit/publish/… actions on pages/data, use dependency injection for parameters in the Function system, use new widgets and create Packages that can update existing data.
Bulk Publishing
Users can now execute content workflow actions, like publish and approve, in bulk. The feature is available on the "Websites" node via the "List Unpublished Pages" command.
Time Zone setting support
You can now override the time zone used for managing date time values in the administrative interface. The setting can be changed from the "Global Settings" menu. When not configured, the time zone of the web server is used.
You can preview / browse to pages and content items when you link to them
The internal link selection dialog provides you with a rendering of the page / media you are about to link to, giving you a visual confirmation. You can also navigate to the element you want to by browsing to it, in addition to selecting it in the tree.
Add Page now a drop down where users select the page type
The ability to select a specific page type when creating new pages was added. Users will now see a drop down button with page type options, and select a page type via this drop down.
Customizing the flows of data actions (like "add page")
Developers can now attach customized add/edit/delete workflows to a specific data type, making them either default or conditional based on data field values. This allows developers to do things like customizing the "Add Page" experience, presenting the user with a wizard customized to the type of page they are creating.
Hierarchical Selector, new widget
A new widget that lets users select N elements from a hierarchical structure was added.
Icon Selector, new widget
A new widget enables users to select an icon from an SVG sprite sheet. The widget is configured with a path to the SVG file containing icons.
Package Installer features – support for data default values and data update
Making DataPackageFragmentInstaller (the component typically responsible for adding data as part of a package install) take default value attributes into account when validating data to install. This allows you to skip data for columns that has a default value specified on them, and also enables older packages to install on a new data schema, provided added columns have default values.
DataPackageFragmentInstaller also respects two new attributes when configured in the install.xml script: Setting "allowOverwrite" to true will ensure that a data item – if already existing – will be updated (and otherwise added). Setting "onlyUpdate" to true will explicitly require that the data item should be already existing, and it will be updated by the package.
Function previews – optional and more responsive UI
The images that represent Function calls in Visual Editor – previews of the HTML generated by the function – are now optional and can be globally disabled via the configuration. Locate the "functionPreviewEnabled" in Composite.config and set it to 'false' to use generic function representations.
The process generating function preview images have been optimized in a number of ways:
support for external images has been added
Console user cookies are now passed to the process
old images are used while updates are generated (calmer UI experience),
and logging in case of issues has improved.
Startup code can force an abort
The ApplicationStartupAttribute used to mark that code in a class should be executed as part of the application startup now accepts the parameter "AbortStartupOnException", which makes the core re-throw exceptions from the startup code and effectively block the system from starting.
Dependency Injection support for function parameters
Developers who wish to use DI to set Functions' parameters can now do so, using a new service collection. When your Function is invoked with unset parameters, the service collection is probed for the same type (typically interface based) and an object is retrieved/constructed and assigned to the function parameter.
A typical use case for this is abstracting implementation away from the Function code and instead, letting them communicate via an interface. During the application startup, you register said interfaces with concrete implementations. You can switch these implementations later on, if the environment (like staging or live) or external dependencies (like a data source) changes.
The UI for defining Function calls will treat parameters that can be invoked via the service container as optional (hidden) and thus allow users to add such functions.
Choosing The Best and Cheap Composite C1 5.1 Hosting
If you're not sure which company can be the best web hosting service provider for Composite C1 5.1 application, this is the correct page you've visited. Here we would like to recommend a web hosting company who can be the best Composite C1 5.1 Hosting in the market for you to check.
How to choose the best and cheap Composite C1 5.1 hosting? Choosing the best and cheap Composite C1 5.1 hosting is not a simple task especially with low price offers. You need to take a large number of factors into consideration, including the Composite C1 5.1 CMS compatibility, usability, features, speed, reliability, price, company reputation, etc. Therefore, we have established this Composite C1 5.1 review site, which is designed to help you find the best and cheap Composite C1 5.1 hosting within minutes, based on our specialized editors' Composite C1 5.1 hosting experience and real customers' feedback.
Get high performance, best uptime and the most reliable Windows Server for your Composite C1 5.1 website with Composite C1 5.1 hosting. Composite C1 5.1 hosting from ASPHostPortal.com provides a safe, reliable and performance-driven foundation for your Composite website. Composite C1 5.1 is the perfect Content Management System for managing and developing your website with one of ASPHostPortal's hosting plans. If you are looking for the right Windows ASP.NET hosting that support Composite C1 5.1 hosting provider, they are the right choice for you. They have proactive monitoring down to seconds with reactive solutions in place to ensure the stability of the services they provide. All hosting servers are monitored 24/7/365. They use enterprise software to monitor their entire network infrastructure. Their best and cheap Composite C1 5.1 hosting price starts from $5.00 per month.