What is Joomla?
Joomla! is a free and open source content management system (CMS) designed to assist users in building websites and other online applications. The Joomla Web CMS is considered to be a popular choice for many types of websites, including corporate sites, news or blogs, government applications, small business sites and sites where secure logins are required. The ecosystem of Joomla developers and users provide products and services to the Joomla community which has more than one-half million members and more than 20,000 developers.
Joomla 3.9 is now available. This is a bug fix release addressing one bug introduced into 3.9 which affects Windows servers.
What's in 3.9?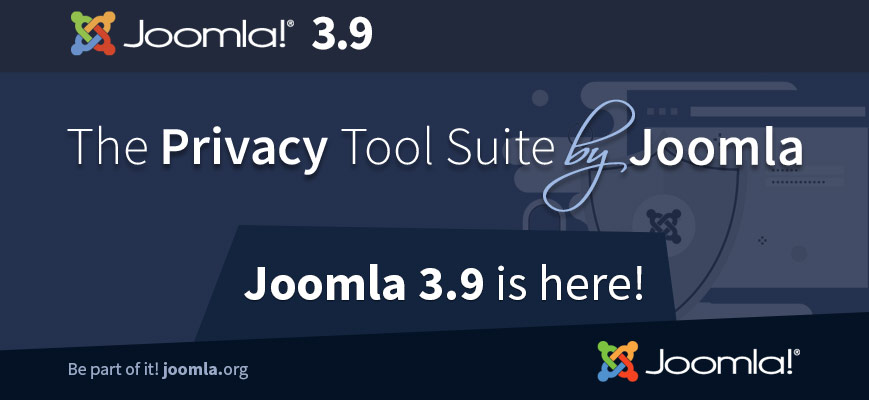 Here are just some of the new features …
The Privacy Tool Suite by Joomla
User Consents – Make light work of data privacy requirements
Need users to consent to your privacy policy and/or terms and conditions? With Joomla 3.9, it's all handled automatically. Simply and easily set up your core forms to request consent before collecting any personal data.
You can also set up a time-based privacy consent expiration. The system will let you know if and when you need to contact your users to renew consent.
Track user consents, manage site policy changes and much more besides, all with a glance at your dashboard.


User information requests? Easy-peasy
Track and manage information access or removal requests from your users, seamlessly. Once a request is made, just log in, export their data and/or remove them.
User data removal requests are all handled automatically, with all personal data anonymized without you needing to lift a finger.
Never forget a request again. Just set Joomla 3.9 to remind you.


Extension Capabilities – Put your users in the picture when it comes to privacy…
Extension developer – give your potential users a helping hand, by making it clear what data your extension collects. When you want to report functionality in your extensions that may need privacy consideration, simply use the new Plugin Event (onPrivacyCollectAdminCapabilities).
With this simple action, your users gain a clear understanding of your extension, and whether they'll need to amend their own documentation, such as their privacy policy or terms of service.


User Actions Log – Know who's done what, and when
Want to know what administrative actions have been performed on your site? Thanks to Joomla 3.9, Super Users can easily see which user did what, and when. And it also works with supported extensions! Review the action log, export it and purge the entries. You'll never miss a trick, thanks to the latest actions module that can be added to your control panel.
Need more? Then enable the new log rotation plugin – this will allow you to rotate and remove your log files.
Joomla 3.9 is about more than Privacy
Content management made fast and easy – little features, that make a big difference

Add notes to your articles in the backend, and filter them
A new search feature in the backend: search for a specific article content
Load a module by ID into your article

More flexibility for custom fields with two new options

A repeatable custom field is now available
Create alternative layouts to fit your needs

Most recent frontend changes

Display the intro or full image in your newsflash module
Show only the articles from a specific author in your latest articles module, and more options!

New features for multilingual sites

A new toolbar button to edit associations
Propagate existing associations
Display your tags per language

Use Google Invisible reCAPTCHA on your websites
Argon2id Password is now supported
Visit the Joomla 3.9 site to learn more about this release and browse our Joomla! 3.9 documentation to discover how to use the new features.
Is your website ready for Joomla! 3.9?
Joomla! 3.9 is a one-click update just like previous 3.x versions. As always, before upgrading it is important to update all of your third-party extensions and also to take and test a full backup of your site.
This is also a great time to connect with your hosting company and check your PHP and database versions. We recommend upgrading to PHP 7 or 7.1 as it will bring a considerable speed boost to your site. Further system requirements can be found on the technical requirements page.
Also, if you are using the Hathor backend template you should switch to the Isis template as your administrative template. The Hathor template is being deprecated and may not provide you with the ability to use all the latest features in Joomla! 3.9.
How to Choose Best and Cheap European Joomla 3.9 Hosting?
If you're not sure which company can be the best web hosting service provider for Joomla 3.9 application, this is the correct page you've visited. Here we would like to recommend several web hosting companies who can be the best Joomla 3.9 Hosting in the market for you to check.
How to choose the best and cheap Joomla 3.9 CMS hosting? Choosing the best and cheap Joomla 3.9 CMS hosting is not a simple task especially with low price offers. You need to take a large number of factors into consideration, including the Joomla 3.9 CMS compatibility, usability, features, speed, reliability, price, company reputation, etc. Therefore, we have established this Joomla CMS review site, which is designed to help you find the best and cheap Joomla 3.9 CMS hosting within minutes, based on our specialized editors' Joomla 3.9 CMS hosting experience and real customers' feedback.
Best and Cheap European Joomla 3.9 Hosting
Get high performance, best uptime and the most reliable Windows Server for your Joomla website with Joomla Hosting. Joomla 3.9 Hosting from ASPHostPortal.com provides a safe, reliable and performance-driven foundation for your Joomla website. Joomla is the perfect Content Management System for managing and developing your website with one of ASPHostPortal's Hosting plans. If you are looking for the right Windows ASP.NET hosting that support Joomla hosting provider, they are the right choice for you. They have proactive monitoring down to seconds with reactive solutions in place to ensure the stability of the services they provide. All hosting servers are monitored 24/7/365. They use enterprise software to monitor their entire network infrastructure. Their best and cheap Joomla 3.9 hosting price starts from $5.00 per month.