Best and Cheap European Sitefinity 10 Hosting
What's Sitefinity?
Sitefinity is a content management system (CMS) designed and developed by Telerik, a multinational software vendor with several blue chip clients.
Sitefinity is an 'industrial strength' CMS designed for heavy duty use although lighter users such as one-person enterprises.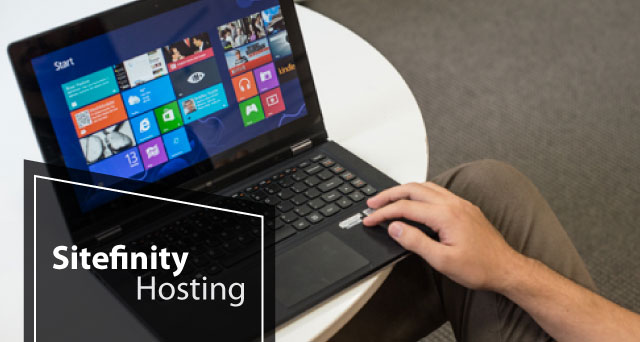 Sitefinity is highly customisable – although for this some web development skills would be required, as would knowledge of some languages such as Javascript, CSS and HTML. This customisation makes the CMS an ideal solution in that it combines the ease of a basic CMS with the full flexibility of a bespoke website design.
The CMS also provides inbuilt Search Engine Optimisation (SEO) while enabling you to customise basic meta-data such as the title and page descriptions. In today's competitive market, business websites must ensure that they are optimised for search.
Another feature is the way Sitefinity makes websites fully accessible on other platforms such as tablets and smartphones. This is important as Google now incorporates this 'ease of access for mobile devices' into its page rankings, and more and more people access the web through their phone or tablet nowadays.
What's New in Sitefinity 10?
The latest version of Sitefinity is 10. What's new in Sitefinity 10?
3rd Party User Authentication
Easily enable social logins or other third-party OAuth and OpenID provider strategies. Website users can login with Facebook, Google, Microsoft, Twitter, Github and LinkedIn using out-of-the-box functionality or use just their email to register a new account, no hard-to-remember usernames required. Should you need a custom provider developed, the simplified API has you covered.
Enterprise Security
Managing user rights and implementing complex identity management requirements outside of Sitefinity has never been easier. Now you can integrate with ADFS or LDAP to automatically authorize website users by mapping Active Directory roles to Sitefinity roles. Sitefinity 10 also brings UI improvements making it easier to manage user access for multiple sites from a single CMS instance.
Keep It Secret, Keep it Safe
Developing a website that only the chosen should see before a big bang launch? No problem, activate Sitefinity Site Shield and you are covered. Website Managers can easily invite stakeholders to the secured site and monitor when they access the site and from what devices. No need for stakeholders to be CMS users. Great for product managers and web agencies that need to secure approval from end clients and legal teams.
This feature will be available only for Sitefinity licenses that have Multisite Management capability.
System Health Check API
The Sitefinity health check API endpoint helps to easily get the current status of a website in terms of database access, NLB communication, Internet connectivity and Redis access. Easily integrates with your existing monitoring solution with a simple call to the API.
Fire Up Your Website Performance Engine
Ensure sites are configured for optimal performance from the very first user visit. The Sitefinity Warmup Tool gets all sitemap pages, compiles them based on sitemap priority and stores them in the output cache. Now you can be confident that your pages are ready to perform at their best on the user's first visit. It all works in the background and Developers can extend it leveraging its plugin architecture.
Improved Diagnostic Tools
Sitefinity 10 takes website diagnostics to the next level by introducing more granular profiling for MVC-based widgets, improved SQL database profiling without impact on site performance and support for Razor templates compilation, site restarts and network load balanced (NLB) requests profiling. Reporting data size can be limited through configuration.
Export / Import Site Data
Streamline the development of new websites by easily moving CMS modules and their data from one Sitefinity instance to another. Support for exporting user profiles has also been added. Great for having starter kits ready to go for the next project.
Complete Cache Control
Always serve the latest content to your visitors around the world by implementing a cache-control header strategy with full control over the cache settings for site images and pages delivered by your CDN.
Azure Cloud Support Improvements
Developers can take advantage of the latest Azure SDK to deploy Sitefinity websites in the cloud.
SVG Image Support
Content Marketers can easily use SVG images to deliver an optimal visitor experience across mobile devices without technical assistance or security concerns. Sitefinity provides out-of-the-box protection against malicious scripts that can be ended in SVG images.
Multisite Data Tracking
Sitefinity 10 makes it possible to isolate customer journey data for individual websites powered by a single CMS instance (codebase) in separate data centers in the Digital Experience Cloud. Thus, Digital Marketers can get data-driven insights that are specific to the brand or website they manage.
Persona Scoring Improvements
Implementing a persona scoring model is part art and part science. Hence, most Digital Marketers choose to start from the big picture and refine their scoring model as they learn from the data. Sitefinity DEC now makes it easy to attribute all user visits under a given website section to a persona profile, including repeat visits. Thus, Marketers can deliver more targeted experiences across their Sitefinity sites.
MVC-Based Widget Tracking
All MVC-based widgets in the CMS can now send data to the Digital Experience Cloud out of the box, making it easier for Developers to benefit from the latest ASP.NET MVC technology while helping Marketers get a complete view of the customer journey.
How to Choose Best and Cheap European Sitefinity 10 Hosting?
How to choose the best and cheap European Sitefinity 10 hosting? Choosing the best and cheap European Sitefinity 10 hosting is not a simple task especially with low price offers. You need to take a large number of factors into consideration, including the Sitefinity 10 compatibility, usability, features, speed, reliability, price, company reputation, etc. Therefore, we have established this Sitefinity 10 review site, which is designed to help you find the best and cheap European Sitefinity 10 hosting within minutes, based on our specialized editors' Sitefinity 10 hosting experience and real customers' feedback.
ASPHostPortal as the leader of Windows ASP.NET hosting provider offers the latest version of Sitefinity 10. For fast, secure and reliable Sitefinity 10 Hosting with affordable price, look no further than ASPHostPortal.com for all your web hosting related needs. ASPHostPortal comes with eight Windows ASP.NET hosting plan, and the prices start from $2.00/mo, normally. With the exclusive promotional link, customers can get the hosting at only $1.00/mo, 50% off the regular prices. That certainly makes ASPHostPortal the cheapest Sitefinity 10 hosting in the field. Moreover, if there is anything wrong, customers can cancel the service, and ask their full money back within the first 30 days, according to ASPHostPortal 30 Days Money Back Guarantee.
Customer support is a backbone of any hosting company. Poor customer support can cost you hundreds or thousands of dollars. ASPHostPortal is known for good customer support. At ASPHostPortal you can get customer support by opening a ticket. If you're active on twitter, you can also mention @ASPHostPortal with your problem and they'll reply to your tweet as soon as possible. Apart from 24*7 customer support they have a well documented knowledge base that you can refer to solve your basic queries.
Does ASPHostPortal really give 99.99% up time? The answer is yes. ASPHostPortal Windows Hosting servers are capable enough to make your website 99.99% available. ASPHostPortal has established a world-class infrastructure making it possible to guarantee such a high uptime percentage.  Of course there is always the possibility that some factor beyond the control of the ASPHostPortal Company will result in more downtime.  Fortunately, this does not occur too often. Upgrades and maintenance downtime are acceptable and do not impact the uptime guarantee.
ASPHostPortal Windows Hosting comes with Plesk control panel. Plesk is best control panel to manage Windows hosting. You can easily manage your server, email accounts with few clicks. You can instantly install over 100 applications on your website with just a few clicks. You can check everything about your website including disk space, traffic, logs & statistics and many more.
Their Sitefinity 10 hosting plans were created with ASP.NET and Windows developers in mind. Experience the best in Sitefinity 10 web hosting at some of the most affordable prices in the industry. With the latest .NET framework, the greatest in Sitefinity 10 web hosting components, and their world class support, you'll soon realize that choosing UKWindowsHostASP.NET is having the UKWindowsHostASP.NET Advantage the advantage of working with the best.
Their data center located on United Kingdom (London). The Data Center is custom designed with raised floors. The Data Center is equipped with HVAC temperature control systems with separate cooling zones, seismically braced racks, advanced early smoke detection and fire suppression systems. Their Data Centers are supported by some of the most powerful physical security in the business. They have 24/7 video surveillance, security breach alarms and Biometric thumb print scanners at every entryway.
As is known, reliability is a top concern for webmasters hosting websites, thus UKWindowsHostASP.NET experts to providing satisfying uptime so as to keep websites running stably and smoothly. This hosting provider guarantees 99.9% uptime.
As one of the most webmaster friendly web hosting provider, UKWindowsHostASP.NET gives out all the convenience to their customer to manage the server easily. UKWindowsHostASP.NET chooses Plesk Control Panel as the Windows ASP.NET web hosting control panel. Plesk Control Panel is an easy-to-use and visual designed control panel for Windows/ASP.NET web hosting. With Plesk Control Panel you can easily manage all about your websites, including domains, files, databases, scheduled tasks, FTP accounts, emails and more.
HostForLIFEASP.NET's easy to use web hosting solutions have made us one of the leading Windows and Sitefinity 10 Hosting service providers in United Kingdom (UK) for years. They were among the first businesses in the IT sector to offer a fully automated web hosting solution and we continue to lead the market through the constant development of their web hosting technology.
They also provide the fastest hosting servers on the internet. Websites hosted on their servers load very fast and they put so much effort to ensure the servers are up to date and in good condition. Their green hosting also ensures an economical friendly environment.
HostForLIFEASP.NET currently operates data center located in Amsterdam (Netherlands), offering complete redundancy in power, HVAC, fire suppression, network connectivity, and security. With over 53,000 sq ft of raised floor between the two facilities, HostForLIFEASP.NET has an offering to fit any need. The data center facility sits atop multiple power grids driven by TXU electric, with PowerWare UPS battery backup power and dual diesel generators onsite. Our HVAC systems are condenser units by Data Aire to provide redundancy in cooling coupled with nine managed backbone providers.