Best and Cheap European Gallery Server Pro 4.2.0 Hosting
Gallery Server is a digital asset management and web gallery application for sharing and managing photos, videos, audio, and other files over the web. Easily add thousands of files using one-click synchronization feature. Includes built in support for metadata extraction, watermarking, video and audio transcoding, security management, and more. 100% managed code written in C# and ASP.NET 4.5. NEW IN 3.2: New UI templates, drag and drop sorting, RSS feeds, and more.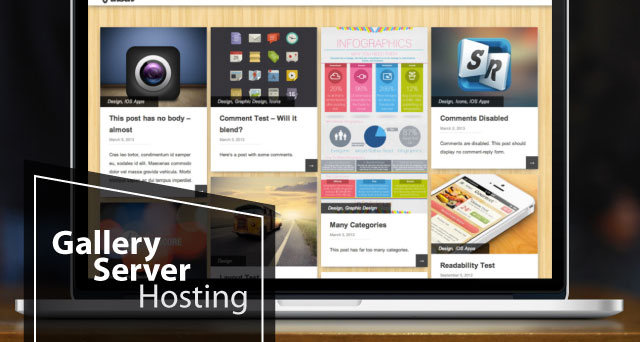 What's New in Gallery Server Pro 4.2.0?
Here's the high-level overview of what's new:
Ribbon toolbar – Manage your gallery faster and with less clicks using the new, ajax-enabled ribbon interface. Most tasks, such as editing properties, creating albums, moving/copying items and more can be done without leaving the current page.
Image and HTML editors – Crop, resize and more with the new image editor. Add rich text and formatting with the tinyMCE-based HTML editor.
Metadata writing – Common properties such as titles, captions, tags and more can now be written back to the original media file, preserving your hard work long after you've moved on from Gallery Server.
High resolution viewer – View the original, high resolution images and videos in the browser.
Performance improvements – They improved performance in several key areas. There's a new smart cache algorithm that only purges changed items, the synchronization engine is up to 50% faster, ZIP file downloads are 80% faster, and a new delayed image downloading algorithm improves performance when viewing albums with hundreds or thousands of assets.
There is also new RAW file support, improved touchscreen support, auto-logon capability, a new loop slideshow option, an 'Authenticated Users' role, improved ImageMagick support, and support for extracting people tags from Windows Photo Gallery.
Enhancements
Allow Gallery Server admin to upload watermark image
Update several third party libraries (jQuery, jQuery UI, jQuery Migrate, jsRender/jsViews, SignalR, SlickGrid, MSBuildTasks, TypeScript, jsTree, tinyMCE, plUpload)
Bug fixes
Deleted 3.2.1 UI templates may reappear
A media asset with null metadata may not be able to be added or synchronized
Embed HTML in light skin has poor contrast
Error when editing title, caption, or other property of root album
Sort preference not saved for anonymous users
The order of media assets in the individual view may not match the order in the thumbnail view
Backup files are not compressed
Error "Value cannot be null"
Error "Object reference not set to an instance of an object"
To choose hosting provider that support Gallery Server Pro 4.2.0 is not easy task. We highly recommend ASPHostPortal for your Gallery Server Pro 4.2.0 hosting partner. Not only offer cheap price, but also expert Gallery Server Pro 4.2.0 support team. You feel free to host your great Gallery Server Pro 4.2.0 site with their great Gallery Server Pro 4.2.0 hosting service. The following are the reasons why you should choose ASPHostPortal as your Gallery Server Pro 4.2.0 hosting partner.
Why ASPHostPortal is the Best and Cheap European Gallery Server Pro 4.2.0 Hosting?
ASPHostPortal comes with eight Windows ASP.NET hosting plan, and the prices start from $1.00/mo, normally. That certainly makes ASPHostPortal the cheapest Gallery Server Pro 4.2.0 hosting in the field. Moreover, if there is anything wrong, customers can cancel the service, and ask their full money back within the first 30 days, according to ASPHostPortal 30 Days Money Back Guarantee.
Customer support is a backbone of any hosting company. Poor customer support can cost you hundreds or thousands of dollars. ASPHostPortal is known for good customer support. At ASPHostPortal you can get customer support by opening a ticket. If you're active on twitter, you can also mention @ASPHostPortal with your problem and they'll reply to your tweet as soon as possible. Apart from 24*7 customer support they have a well documented knowledge base that you can refer to solve your basic queries e.g. How to upload a website, how to create email accounts, how to install Gallery Server Pro 4.2.0, etc.
ASPHostPortal Windows Hosting comes with Plesk control panel. Plesk is best control panel to manage windows hosting. You can easily manage your server, email accounts with few clicks. You can instantly install over 100 applications on your website with just a few clicks. You can check everything about your website including disk space, traffic, logs & statistics and many more.
Does ASPHostPortal really give 99.99% up time? The answer is yes. ASPHostPortal Windows Hosting servers are capable enough to make your website 99.99% available. ASPHostPortal has established a world-class infrastructure making it possible to guarantee such a high uptime percentage.  Of course there is always the possibility that some factor beyond the control of the ASPHostPortal Company will result in more downtime.  Fortunately, this does not occur too often.  Upgrades and maintenance downtime are acceptable and do not impact the uptime guarantee.