Best and Cheap Magento 2.3.0 Hosting
Magento is an open-source content management system for e-commerce web sites. Magento eCommerce CMS is a much-needed tool in today's competitive digital world. By using Magento eCommerce CMS, online merchants are in charge of the look, content and functionality of their websites. What makes Magento so popular? The most obvious reason is that Magento eCommerce CMS can host 500,000 products on a single site and handle 80,000 orders per hour. What's more, Magento gives you the flexibility to add third-party apps and extensions like Shipper3, an automated shipment processing system.
Built for flexibility, Magento is an open-source CMS that is regularly upgraded by developers. Magento also enables you to optimize merchandising with quality images and product descriptions targeted to your ideal customer, and reduce shopping cart abandonment with a frictionless shopping experience. You can easily configure your online Magento store to be compatible with virtually all mobile devices. The Magento developer community offers hundreds of apps and extensions to enhance and optimize your site's functionality and performance. Magento eCommerce CMS is designed to help you form and nurture relationships with returning customers.
What's New in Magento 2.3.0?
MULTI-SOURCE INVENTORY
As merchants grow and evolve, so do the ways they sell, store, and deliver their products. Multi-Source Inventory (MSI) helps merchants improve operational efficiency by managing inventory across multiple physical locations from within the Magento admin. Additionally, merchants can:
Assign products and quantities to each fulfillment source, such as warehouses, stores, distribution centers or third-party drop shippers.
Track inventory at each source for easier management of inventory.
Streamline operations with rules to prioritize and automatically control the inventory sources that are used to fulfill orders for each website in real- time.
Integrate with third-party inventory systems
Even merchants with a single inventory source benefit from MSI with an inventory reservation system that tracks deductions from the salable product stock when customers add products to carts. This results in accurate quantity counts and high performing checkouts that improve conversion rates.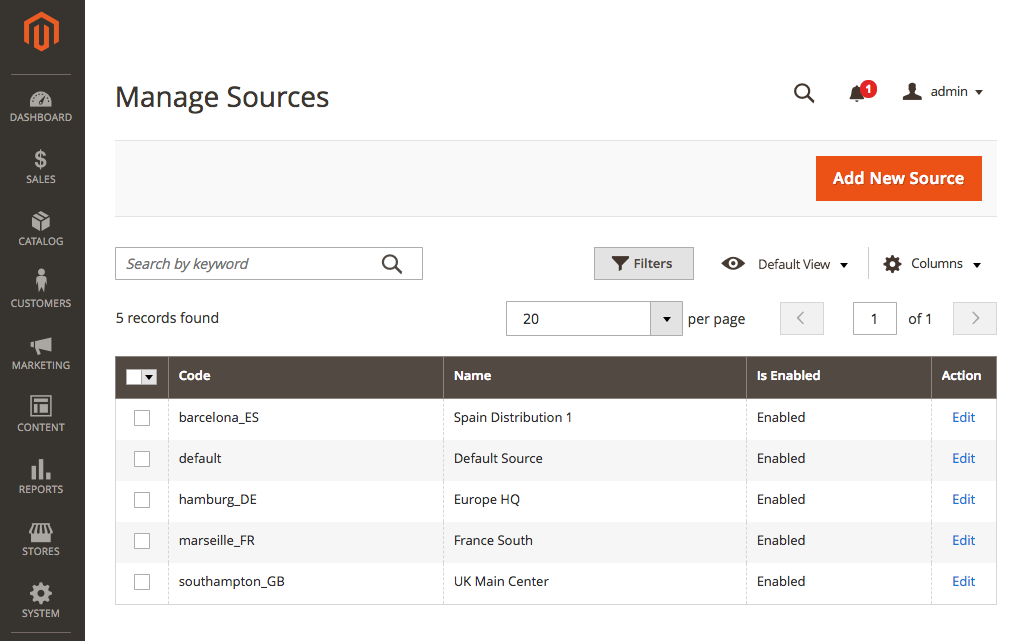 PWA STUDIO
Smartphone penetration is expected to reach 90% in 2019 with nearly three-quarters of consumers engaging in mobile shopping. Progressive Web Apps (PWA) enable merchants to deliver superior mobile experiences that boost conversion rates and increase engagement. PWA Studio provides tools that will make it faster and cheaper to build Magento-powered PWA experiences.
With PWA studio, merchants can deliver app-like mobile commerce that is fast, integrated, and reliable. These experiences are proven to improve SEO and to drive 50% higher conversion rates, and 50% better page performance on average. Designed with the developer in mind using reference themes, guided development, and open web standards, PWA Studio also speeds time to market and lowers the total cost of ownership.
As an open source initiative, PWA Studio will have regular updates—independent of Magento releases—rapidly adding new features, reference theme enhancements, and quality improvements. With developers and partners already building PWAs we are excited about the future of front-end development on Magento. For information on how to work with PWA Studio and visibility into our roadmap visit pwastudio.io.
PAGE BUILDER
Gone are the days of creating pages and managing site content using HTML and CSS. Available for Magento Commerce, Page Builder introduces an intuitive, drag-and-drop interface; a powerful set of content types like images, videos, and banners; and instant preview capabilities that enable non-technical users to take control of their content. Now you can create new pages, enrich products and categories, and launch content updates quickly and easily without the help of a front-end web developer.
A flexible grid system allows you to position page elements in a highly customizable way and in-context text editing streamlines the whole process. The appearance and behavior of content types can be quickly tuned to accommodate any design.
Page Builder is fully integrated with existing Magento functionality such as media gallery and widgets so you can incorporate these assets into your pages. You can also use Page Builder to create dynamic content blocks used throughout your site, and you can schedule content to go live in the future with content staging and preview.
Page Builder currently has limited availability for our Early Adopter Program. Page Builder will be Generally Available for all Magento Commerce customers as part of the upcoming Magento 2.3.1 release.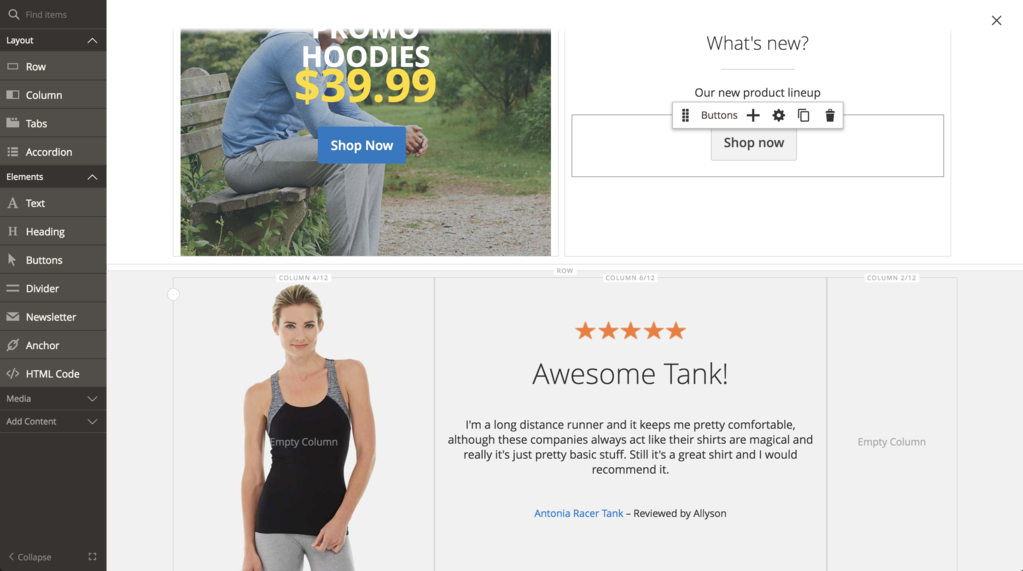 ADDITIONAL UPDATES
In addition to these new features included with the latest release, Magento 2.3.0 delivers updates and enhancements across the entire platform:
Magento Shipping – Added support for new fulfillment options and expanded global availability.
GraphQL – a flexible and performant storefront API with rich developer tooling that is integrated into the Magento API ecosystem. Developers will be able to more easily query specific data elements from APIs in a single request. GraphQL's focused responses provide faster and more predictable presentation results, even on slow networks.
Asynchronous & Bulk Web APIs – new scalable APIs enable better control over the timing and execution visibility of API calls, at greater volume, and without waiting for all previous operations to complete, all of which allow for faster performance.
Declarative schema – Ease the upgrade and installation process by allowing developers to declare the final desired state of the database and have the system adjust to it automatically, without performing redundant operations.
Improved indexing performance – Sharding and parallel processing of indexers reduces indexation times by over 60% to support larger sites and quicker product updates.
New security tools – Help further secure your stores and prevent fake logins with Google ReCAPTCHA and Two Factor Authentication.
Why You Should Use Magento?
Developer following
Possibly the biggest advantage of using Magento over other ecommerce platforms (especially premium ones), is the huge global developer following it has. This adds a lot of value as lots of common issues and errors are documented on various different forums and blogs, helping store owners to overcome issues without having to use a consultant / agency / contractor.
There's also lots of developer resources / guides around online, as well as MagentoU and the Magento certifications, which cover lots of the Magento core and validate a developer's ability.
Scalability
The community edition of Magento is highly scalable and is suitable for retailers of all sizes. With larger retailers based on the community edition.
There are retailers that are turning over £20m+ online using the community edition of Magento without having any reason to look to migrate or move onto the enterprise edition.
Smaller retailers who are using Magento Community can operate knowing that their platform will allow them to grow considerably without hindering them.
Because so many different solutions integrate well with Magento (such as Salesforce and various different EPOS systems), retailers can also grow with the help of third-party software that can be fully integrated with the platform.
Magento is / can be SEO-friendly
Although out of the box Magento isn't particularly good for SEO, it can easily be tamed with the help of third-party modules.
The basic elements of SEO are already covered with Magento, such as meta content, use of the canonical tag, top-level URLs, search-friendly URLs, redirecting functionality etc.
Open source code
One of the key benefits of using Magento over other platforms is that it's open source, meaning, amongst other things, it's more flexible for developers, it's more accessible (in terms of cost) and it's more secure.
Lots of developers and agencies
There are thousands of Magento developers and agencies all over the world, meaning that if you get burnt by an agency / developer and want to move away, you've got the option. There are so many good agencies out there with experience and you're not tied to a single provider unless you sign a contract.
Lots of functionality and features
Magento is filled with all kinds of functionality out of the box and has everything you need to run a standard ecommerce shop. In addition to the obvious things you'd expect out of the box, you've got a flexible product catalogue (which can be built into a product feed), a Magento module to help you create a mobile app / website, gift code / card functionality and lots more!
Choosing Magento 2.3.0 Hosting?
How to choose the best and cheap Magento 2.3.0 hosting? Choosing the best and cheap Magento 2.3.0 hosting is not a simple task especially with low price offers. You need to take a large number of factors into consideration, including the Magento 2.3.0 compatibility, usability, features, speed, reliability, price, company reputation, etc. Therefore, we have established this Magento 2.3.0 review site, which is designed to help you find the best and cheap Magento 2.3.0 hosting within minutes, based on our specialized editors' Magento 2.3.0 hosting experience and real customers' feedback.
Top 3 Best and Cheap Magento 2.3.0 Hosting
The ASPHostPortal.com's ASP.NET hosting platform on Windows 2016 and Windows 2012 is compatible with Magento 2.3.0 hosting. Of course, you can feel very comfortable with their hosting service. Their best and cheap Magento 2.3.0 hosting plan is starting from $3.91/mo only. And with their promo code, you can get free domain too. Not only that, they also offer 30 days money back guarantee. Their servers are 99.99% uptime, it is important think that you need for your Magento site, so your site is never down.
ASPHostPortal.com provides Magento-optimized managed hosting solutions for online merchants of all sizes. Since 2008, they've been committed to delivering superior performance, reliability, security, and support to their clients. Every Magento hosting deployment is engineered from the ground up to be responsive, scalable, and cost-effective.
UKWindowsHostASP.NET is an advanced web hosting company specializing in Magento eCommerce hosting solutions. UKWindowsHostASP.NET combines the fastest, most reliable hardware in the industry with the highest performing infrastructure, to create an optimal environment for hosting eCommerce sites. Backed by a superior 24/7 customer support team, the UKWindowsHostASP.NET platform maintains an unsurpassed level of quality, innovation and performance in order to provide customers reassurance that his/her eCommerce store will be supported by the hardware and resources needed to maximize revenue.
Their cloud and dedicated web hosting packages offer flexible, fast and secure support for your Magento site hosted in their state of the art Australia data centers. With reliable handling for any volume of traffic their Magento web hosting is fast, dependable and secure.