Cheap European PrestaShop v1.7.0.5 Hosting
PrestaShop is an open source eCommerce solution. It comes with a variety of tools necessary for building a successful online shop. To create an online store with PrestaShop you need reliable web hosting services.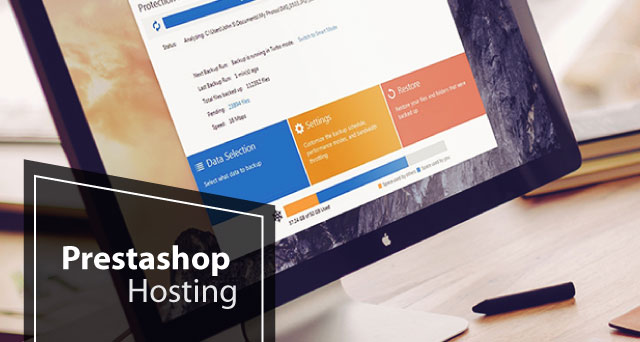 What is New in PrestaShop v1.7.0.5?
Create a Product Page
A brand new way to add products to your catalogue! Refreshed interface, quick actions, shortcuts, automatic management for combinations and much more… They entirely rebuilt it to showcase the most relevant features and allow merchants to do this task quicker than ever!
A revamped module page to better manage your modules on a daily basis. They introduced tabs, to let you easily navigate between the 3 sections, making it easy to view your installed modules, manage the ones waiting for an action and discover some that can be helpful for your business.
Back Office Navigation
The back office has been refreshed, with an improved UI/UX experience making it easier to browse. They've also rethink the navigation menu to make it clearer and organize it in 3 big topics: sell, improve and configure.
Named "Classic", this new template brings a fresh look to your store and allows you to start selling in no time. They've also greatly improved the product sheet and made a complete overhaul of the checkout process for a better shopping experience.
Parent / Child themes
By allowing anyone to create a child theme, designers and developers will be able to modify a theme without being worry to update it and lose all the work done.
Starter Theme
Free from any markups or custom style, allowing designers & front-end developers to build amazing templates in no time.
Introducing Symfony
The famous and robust framework has been introduced in some parts of the software, allowing their team to focus on ecommerce specifics.
Changelog In Version 1.7.0.5
Back Office:
– Bug fix:
#7450: Fix some automator problem
#7408: Fix deletion of virtual product attachment
#7396: Fix products actions
#7383: Add some cast on variables
#7394: Fix fatal on getModulesToEnable()
#7379: Fix image icon
#7318: Fix saving decimals in AdminProduct combination form
#7301: Translate categories tree in product page
#7325: Add success message when import localization is ok
#7324: No default reference on catalog
#7326: Fix attachment file
Front Office:
– Bug fix:
#7410: Redirect to 404 when CMS page doesn't exist
#7340: Fix translations error from module with sprintf
#6972: Add missing nofilter after display hook
Core:
– Improvement:
#7360: Add config.php to the file .gitignore
#7353: Update Israel VAT to 17%
– Bug fix:
#7465: Protect some folders
#7424: Update composer with modules
#7354: Filter theme / module inputs
#7418: Alter currency name to varchar(64)
#7419: Use the right modules branch
#7411: Refacto to get translation files
#7407: Do not load index.php file in catalogue
#7397: Fix email override path
#7387: Fallback dataformate duplicate value
#7347: Use the right attributes separator into the cart
#7388: Fix clear media cache
#7385: Fix function call
#7351: Replace PCRE e modifier with callback
Choosing PrestaShop v1.7.0.5 Hosting?
How to choose the Cheap European PrestaShop v1.7.0.5 hosting? Choosing the Cheap European PrestaShop v1.7.0.5 hosting is not a simple task especially with low price offers. You need to take a large number of factors into consideration, including the PrestaShop v1.7.0.5 compatibility, usability, features, speed, reliability, price, company reputation, etc. Therefore, we have established this PrestaShop v1.7.0.5 review site, which is designed to help you find the Cheap European PrestaShop v1.7.0.5 hosting within minutes, based on our specialized editors' PrestaShop v1.7.0.5 hosting experience and real customers' feedback.
Top 3 Cheap European PrestaShop v1.7.0.5 Hosting
The ASPHostPortal.com's ASP.NET hosting platform on Windows 2012 and Windows 2008 is compatible with PrestaShop v1.7.0.5 hosting. Of course, you can feel very comfortable with their hosting service. Their Cheap European PrestaShop v1.7.0.5 hosting plan is starting from $5.00/mo only. And with their promo code, you can get free domain too. Not only that, they also offer 30 days money back guarantee. Their servers are 99.99% uptime, it is important think that you need for your PrestaShop site, so your site is never down.
ASPHostPortal.com provides PrestaShop-optimized managed hosting solutions for online merchants of all sizes. Since 2008, they've been committed to delivering superior performance, reliability, security, and support to their clients. Every PrestaShop hosting deployment is engineered from the ground up to be responsive, scalable, and cost-effective.
UKWindowsHostASP.NET is an advanced web hosting company specializing in PrestaShop eCommerce hosting solutions. UKWindowsHostASP.NET combines the fastest, most reliable hardware in the industry with the highest performing infrastructure, to create an optimal environment for hosting eCommerce sites. Backed by a superior 24/7 customer support team, the UKWindowsHostASP.NET platform maintains an unsurpassed level of quality, innovation and performance in order to provide customers reassurance that his/her eCommerce store will be supported by the hardware and resources needed to maximize revenue.
Their cloud and dedicated web hosting packages offer flexible, fast and secure support for your PrestaShop site hosted in their state of the art Australia data centers. With reliable handling for any volume of traffic their PrestaShop web hosting is fast, dependable and secure.
Are You Looking for CentOS Linux Dedicated Server?

You have many options when choosing a Reliable Dedicated CentOS Linux hosting company. Our recommendation for CentOS Linux Dedicated Server is ASPHostPortal.com. ASPHostPortal.com is the Cheap European CentOS Linux Dedicated Server.

With CentOS Linux dedicated server from ASPHostPortal.com, you have full root access to the server 24/7/365. The server is a dedicated service and it is not shared among their clients. All ASPHostPortal.com servers offer the most advanced CentOS Linux Dedicated Server operating system available today.