Google is constantly making massive updates to its core algorithm — some are small daily updates, some are much larger like the December 2020 Core Update people — and dozens of agencies and SEOs are able to pinpoint dozens of factors that can determine a website's rankings.
The domain name, for instance, is one of the known foundations for an SEO-friendly website.
In the past, using keyword-oriented domains was the norm. However, when Google realized that marketers were exploiting this ranking factor, Google started to change things up. With the way things are right now, it has become a widely accepted conclusion that brandable domain names offer the safest solution.
It is all about establishing a brand that users can trust — an authority that people would go to for relevant and useful information.
Another standard practice is to opt for domains with a '.com' TLD (top-level domain).
The only problem with this approach, however, is that you are not guaranteed the domain name you want unless you use a different extension such as '.org', '.net', and '.co'.
This begs the question: "Does using an alternative TLD affect SEO? Common knowledge suggests that it doesn't, so why do people insist that you use '.com'?
In this guide, I'll break down if TLDs impact SEO and how to choose one.
Generic TLDs and Their Association with Spam
Over the years, new TLDs were slowly introduced to accommodate the influx of websites being created daily. But since not all of them are viable for business or blogging use, we will only focus on generic TLDS (gTLDs) and country code TLDs (ccTLDs).
According to Domains Index, there are now about 1,500 top-level domains being used worldwide, with about 31,063,341 domain names registered in a new-gTLD. Unfortunately, a handful of gTLDswere associated with spam pages, including but not limited to '.biz', '.info', '.zip', and '.review'.
By using an alternative gTLDs, there is a risk that your target visitors might view your site as illegitimate or straight up harmful.
With this in mind, below are the top 10 extensions you should avoid: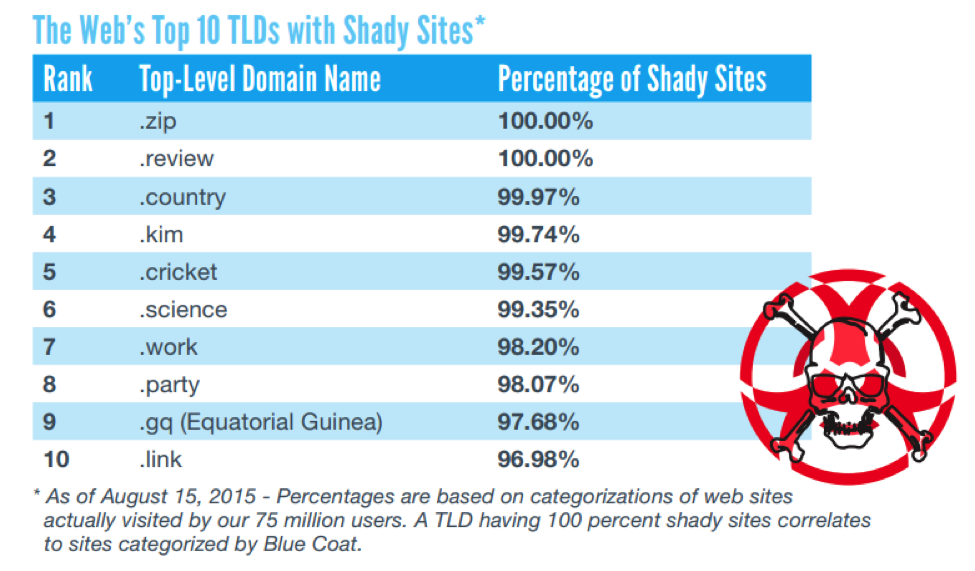 Although Google confirms that alternative gTLDs do not directly affect a website's search rankings, they might influence the audience's perception of a brand — therefore affecting the brand's click-through rate.
Remember that the domain name is one of the things new visitors use to gauge a brand's credibility. Most SEO experts recommend the '.com' TLD because most — if not all — users are familiar with it. Just take a look at the domains of gargantuan brands like Facebook, Apple, and Microsoft.
There is, however, a silver lining to alternative gTLDs: they can help make your domain name more meaningful and industry-specific. For example, '.tech' and '.io' domains are now trending for both startups and tech sites.
If a user searches for something that they expect from a credible source of tech-related information, they will be more willing to click a site with the '.tech' or '.io' extension.
In some situations, using a specific gTLD can also complement your branding effort. For example, the '.me' gTLD can match a site with an action-oriented domain name: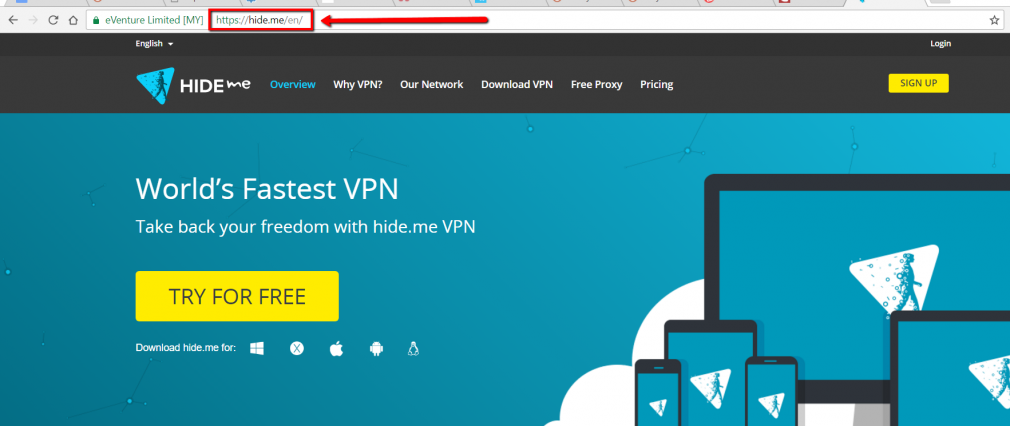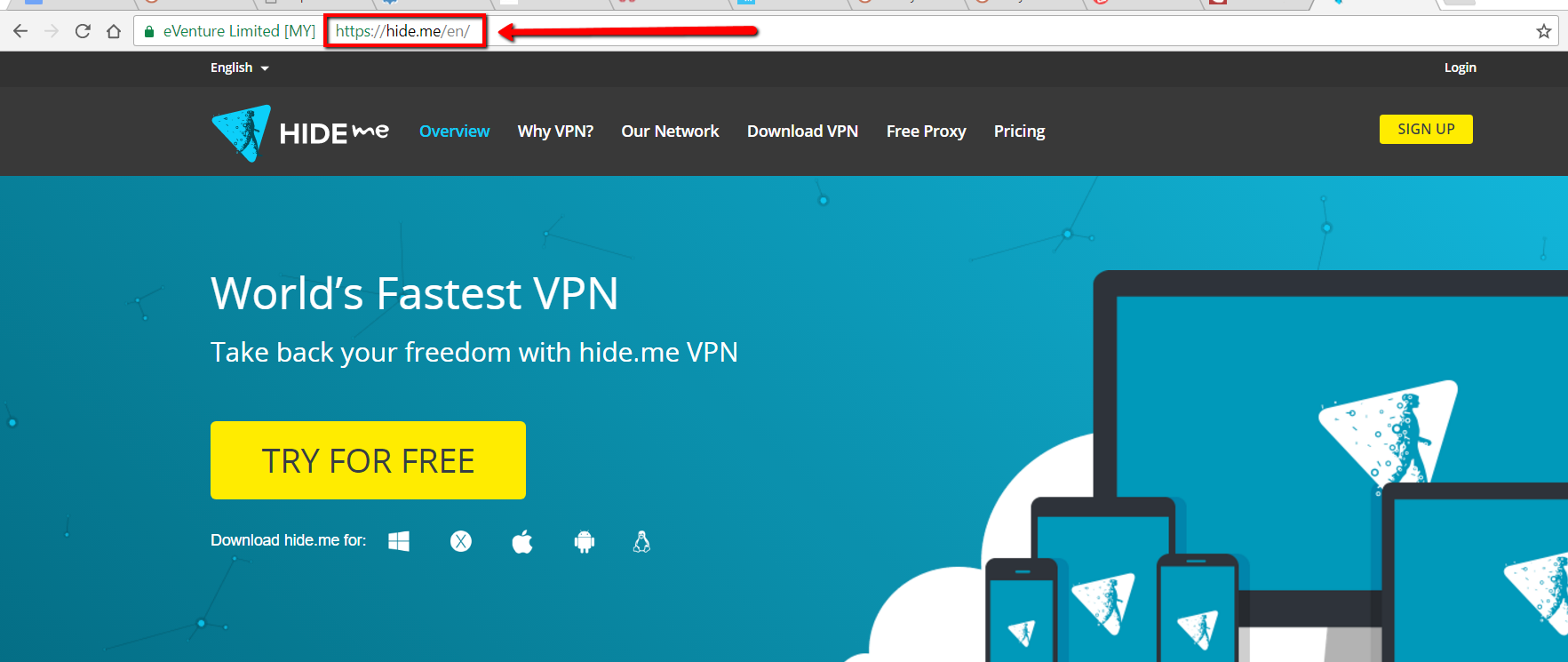 These are sometimes referred to as "novelty domains".
With a little creativity, even unusual gTLDs can work: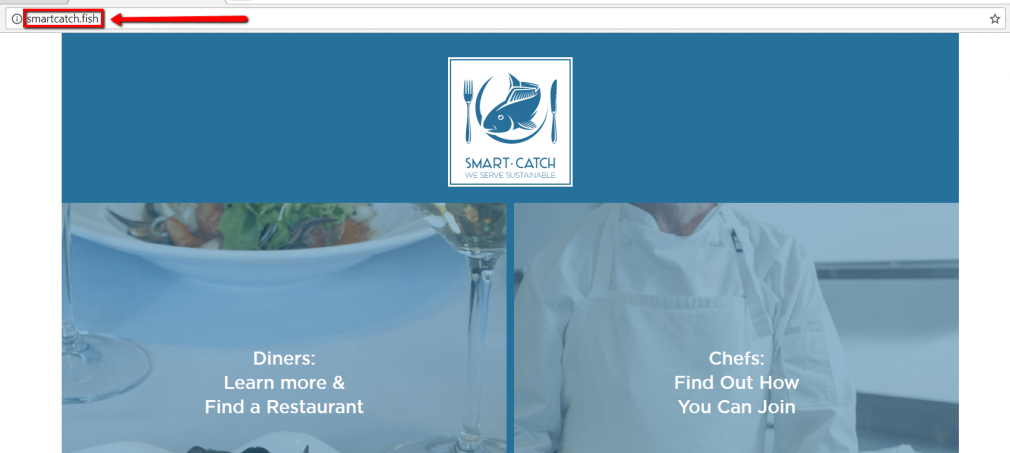 Now that we have established that alternative gTLDs are somewhat risky, what about localized TLDs?
Country Code TLDs and Geo-Targeting
When it comes to local domain extensions or country code top-level domains, spam association is generally not a problem. In fact, they might actually be preferred by some audience.
A survey reveals that, aside from '.com', people are more likely to trust a domain with '.co.uk' — one of the most popular examples of ccTLDs. The main reason brands use ccTLDs is due to its benefits for SEO via geo targeting.
For example, since "UK" is embedded in a '.co.uk' domain, then it is more likely to appear in searches like "wedding planner UK", "Gucci bags UK", and so on.
Furthermore, using ccTLDs can improve buyer confidence by assuring the availability of goods or services in a specific location. It also signals that you are a local business, thus, making potential buyers feel as if it is easier to make a purchase from you.
Using ccTLDs with Google Search Console
If your goal in using ccTLDs is to attract geo targeted traffic, you can maximize your success with Google Search Console. Start by logging into your account and selecting the property you want to use for geo targeting.
From your dashboard, go to Search Traffic > International Targeting and then select the "Country" tab.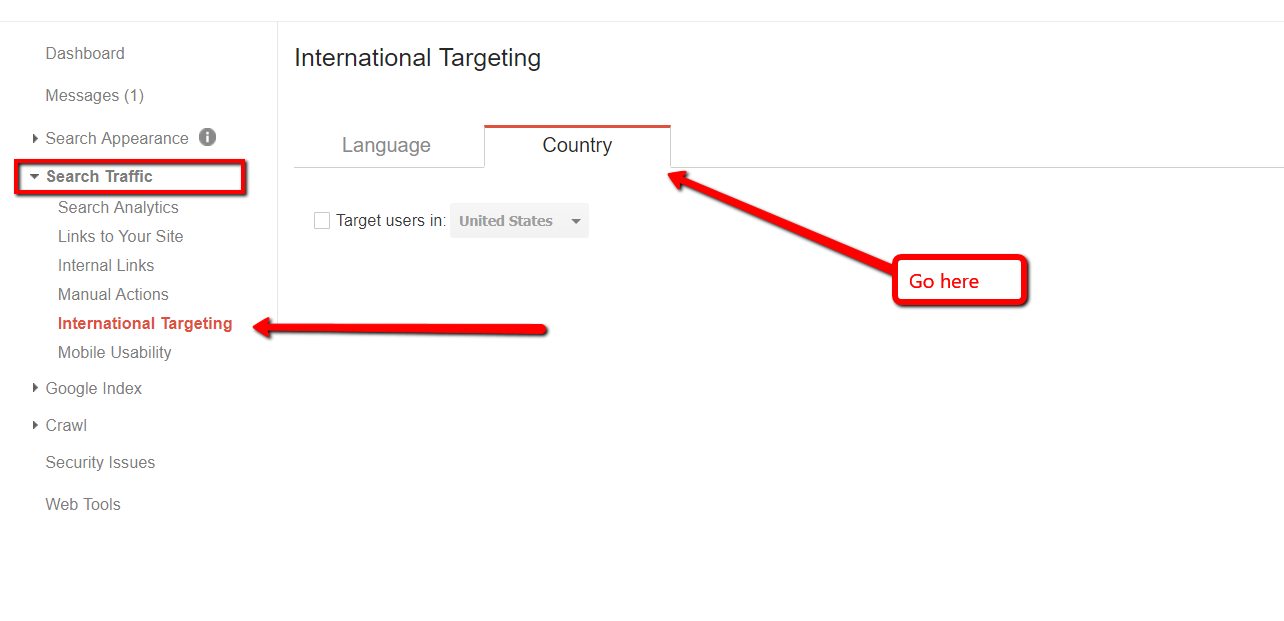 Next, simply tick the "Target users in" checkbox and select the country you want to target from the dropdown list.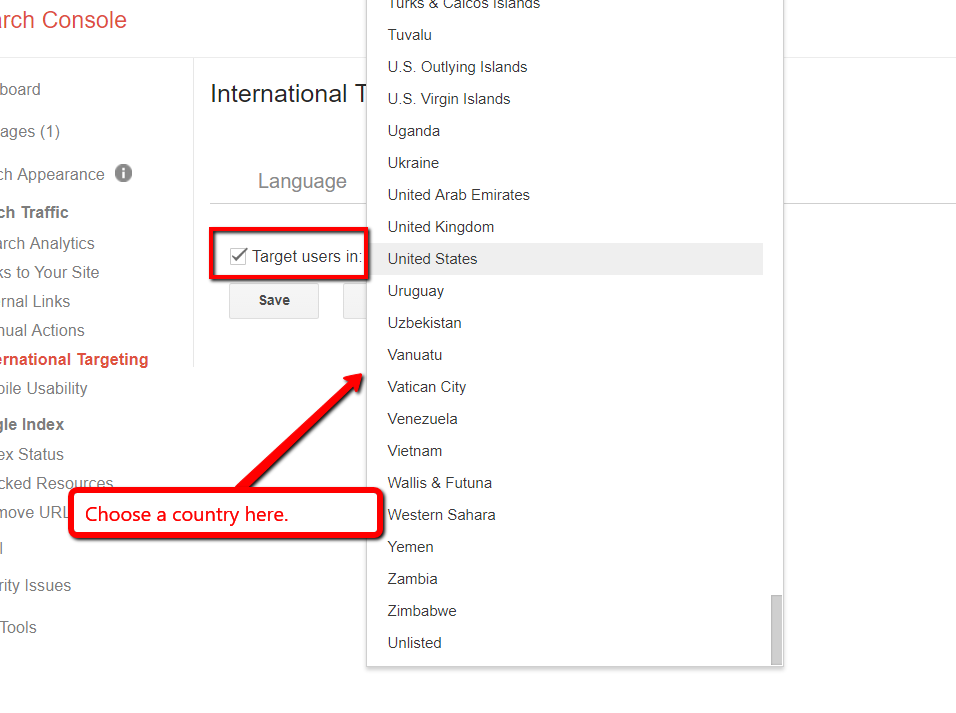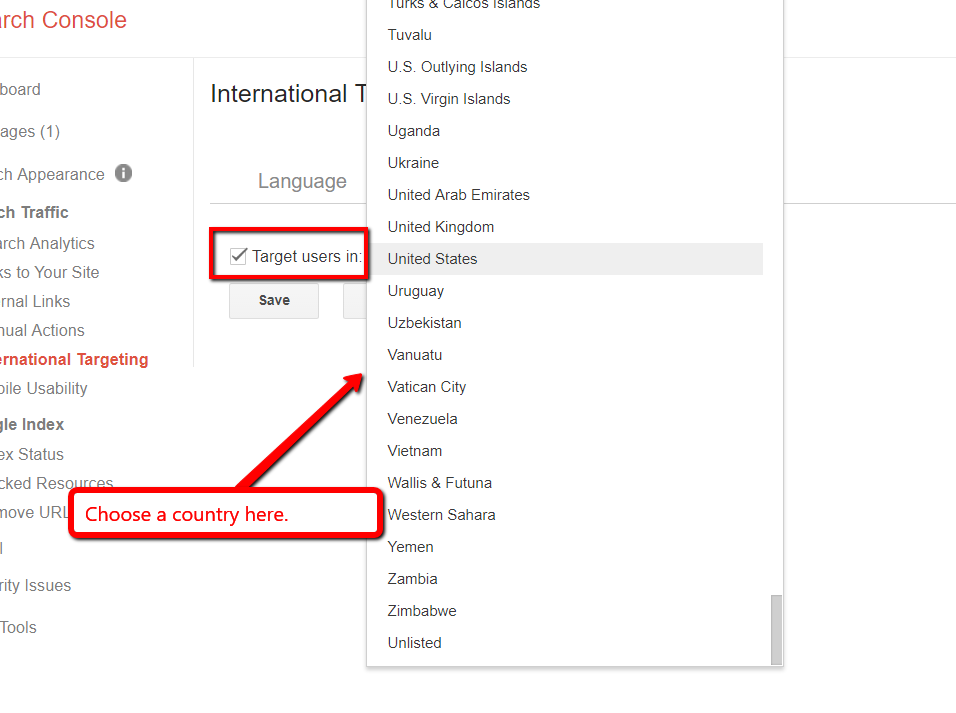 Click save, and that is it!
Your domain is now better optimized for search users from a specific location. Here are some additional tips on how to improve your search engine rankings with ccTLDs:
Pay Attention to Your Hosting
You don't want your geo-targeting efforts to be ruined by a subpar site performance.
To ensure the smoothest experience for your target audience, look for web hosting companies that offer localized servers. You can also opt for a content-delivery network to leverage a globally-distributed network of servers instead.
Mind Your Language
Another reason why some users choose localized domain extensions is because they expect the site to be shown in their native language. For example, if you use the '.de' domain extension, then your users might expect you to use the German language.
Don't forget to set the right language setting in Google Search console as well (refer to the guide above).
Register Your Site on Google My Business
If you are trying to rank a local business, make sure you register through Google My Business. The process should be quick and easy; it will also help make your site more visible on Google services such as Maps and Search.
Using domain names isn't an exact science. If you think we missed an important issue regarding alternative and localized domain extensions, feel free to comment about it below!
Conclusion
To wrap up, using an alternate domain extension does affect SEO. But whether the impact is negative or positive depends on the TLD you choose. Remember that the TLD is still an important piece of your domain name.
If you choose wrong, your site may be falsely associated with spam or overlooked as irrelevant to a local audience. Do it right, however, and it can do wonders for your SEO and branding efforts.