PrestaShop 8, one of the greatest CMS and eCommerce platforms, just announced a new version with numerous upgrades. In fact, v8.0.2, which incorporates a security patch and resolves roughly 20 issues, has been available for a few weeks.
Your online business's success depends on selecting the best eCommerce platform. You can experience restrictions in terms of scalability, customization, security, and other crucial areas if you don't pick the correct platform.
Why not PrestaShop Version 1.8 after 1.7.8?
We have seen the recent version 1.4, 1.5, 1.6, 1.7, and most recently 1.7.8. You may have questioned why this version is 8 instead of 1.8!!! This is the first time this has happened and it makes perfect sense. This is understandable since most software versions have three digits. So let's see what 3 digits mean for the software version:
1st = Major Changes.
2nd = Minor changes.
3rd = Fixing
So PrestaShop comes with major changes with the progressive evolution. Version 8.0 of the software promises better performance than previous versions.
PHP Support
PHP version 8.0 and 8.1 are supported by PrestaShop 8.0. More than 70% of the code for websites is written in PHP, so it is important to stay up to date with the latest advancements and speed enhancements. To run PrestaShop 8.0, your server must be at least PHP 7.2.5.
PrestaShop will bring significant improvements to performance thanks to the adoption of PHP 8. This will make your store run faster than ever before.
In terms of performance, version 8.1 is 25% – 45% faster than 8.0, and 52% – 72% faster than 7.2 across various common frameworks.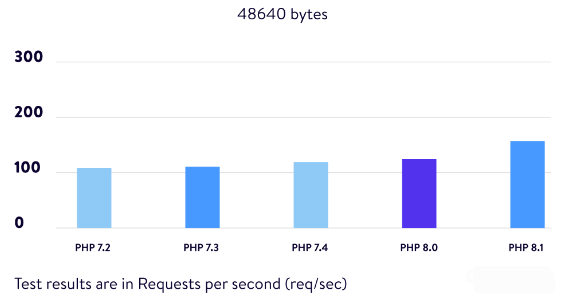 The PrestaShop 8.0 beta version is unstable and has not been benchmarked. Developers are impressed with PHP 8.1 because This will allow you to run multiple websites on a VPS or server without any problems.
What does it mean by Open Source CMS?
An open-source content management system (CMS) is a system that is maintained by its community of developers, rather than being developed and owned by a single company. The source code is available to the public, and anyone can modify it and create their own functionality. PrestaShop.com already announce that PrestaShop going to be the completely independent version (Open Source). Until now, the only PrestaShop distribution that could be downloaded from GitHub and PrestaShop.com was dependent on PrestaShop.com and could not operate independently.
For this separation, the company fully detaches the PrestaShop Project from its commercial activities. So therefore we have two distributions:
PrestaShop Project: The software is available separately from any commercial service and it can be downloadable from GitHub. So this distribution is designed for users with strong technical skills.
Commercial PrestaShop: PrestaShop's software is supplemented by its services, which are sold by the company. You should have an account on Prestashop.com to use this distribution because this version is most likely integrated with the PrestaShop essential suite.
What are the new Features of PrestaShop 8?
New Product Page: PrestaShop 8.0 comes with fresh, clean new back office product pages. This page will provide a better user experience and fast page speed when you are dealing with many combinations and growing inventory. Symfony-based page is more adaptable and offers reused code which is helpful for the developer.
Themes: Themes is using the jQuery UI tooltips that may need to update to use bootstrap's tooltips. In pages like order history and addresses, empty state messages are now shown inside the block. The Classic theme has been updated to support the new password policy.
All modules located in the "modules" directory will be installed automatically during the installation process.
The Upgrade module now contains all upgrade scripts.
Now the default carrier is "Click and Collect".
Live exchange rate service is no longer.
RegistrationController and AuthController will handle the logic for customer logic and registration. As the URL for registration has changed, this may affect third-party themes and modules.
PrestaShop 1.7 Modules and themes will run on PrestaShop 8?
Some modules that work with PrestaShop 1.7.8 may also work with PrestaShop 8. However, some of them may need to be updated, especially if they are impacted by code changes or PHP 8 compatibility.
Is an Upgrade necessary for my stores?
When the first major stable version is released then absolutely we should upgrade the PrestaShop 8. If you upgraded your store to the latest 1.7.8 version, then upgrading from 1.7.8 to 8.0 should be a relatively easy process. Beta versions always come with experimental features that need to be updated. So it's not a good practice to upgrade the live store with the beta version.
What is PrestaShop Hosting?
Since most web hosting packages are generic in nature, they can technically support a variety of websites and apps. Some, such as the PrestaShop Hosting plans provided by ASPHostPortal, are especially created to provide the most advantages to customers looking to host this eCommerce platform.
Tips to Get a Good PrestaShop Hosting Provider
It's not as tough to choose the ideal PrestaShop hosting partner as you would imagine. If you adhere to a few straightforward rules, the process should go without a hitch. There are quite a few, for instance:
Performance – Does the host offer servers with good performance and is known for reliability? PrestaShop stores need high uptime in order to serve customers 24/7 uninterrupted.
Customer Support – Is there a team ready to offer assistance at any time you need it? Good hosts like ASPHostPortal take pride in their customer service and offer expert and holistic services with their experienced teams.
Price – Some web hosts rely heavily on commercial applications for their business. While in some cases this might be good, the end result may be much higher prices than you should be paying.
Be prudent – Paying for the most expensive plan isn't necessarily always best. There are many other elements that factor into the relationship, such as attitude and efficiency.