List of open source CMS and hosting services to setup your online store
Any merchant today needs an online presence. Fortunately, going digital to sell your products has never been simpler. There are mainly two options to do this. One is to build a website supported by a Content Management System (CMS) such as Magento or WooCommerce. The other option is to use a hosted solution such as Shopify or SquareSpace. There are numerous options available in both these categories. Here we take a look at the best of both worlds and what may suit your needs most aptly:
1. Magento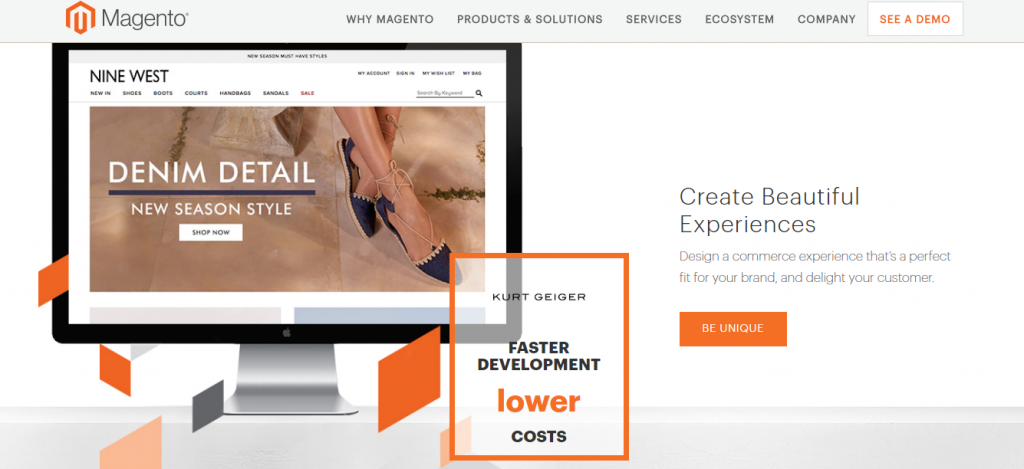 Open-source and written in PHP. It powers some of the biggest brands in the world such as Coca Cola, Nike and Burger King.
Offers three products — Enterprise Edition, Enterprise Cloud Edition and Community Edition.
If you're a small or medium sized enterprise, then the free Community Edition is the way to go. The Enterprise Cloud Edition and Enterprise Edition are paid and typically suited for bigger businesses.
The Enterprise and Enterprise Cloud Edition offer broad scalability and flexibility, supported by Amazon Web Services under the system. It can handle sudden traffic spikes and offers customization to add a differentiating factor to the site.
All these solutions are backed up by the Magento Marketplace, which has a number of extensions available. For example, there is Mail Chimp integration, B2B ERP Connect and TaxJar Sales Tax automation. Paid services include Business Intelligence and Shipping.
Magento is also SEO-friendly and has a sizeable community for support.
2. Shopify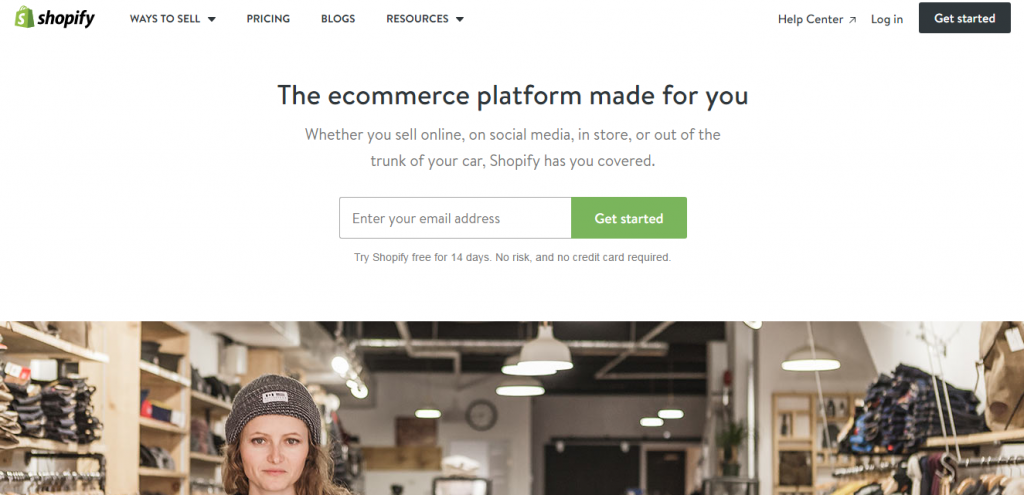 Shopify offers an out-of-the-box solution which makes it very easy to get started with your e-Commerce venture. It is a smooth process, whether setting up a store for your own business or for a client.
Shopify offers three plans — Basic Shopify ($29/month), Shopify ($79/month) and Advanced Shopify ($299/month). Staff accounts on these plans can be 2 (for Basic), 5 (for Shopify) and 15 (for Advanced).
There is no transaction fees and each plans comes with the ability to have unlimited products and file storage for the store. Each plan also sets up a blog, in addition to the website. Additional features include discount codes, manual order creation and even fraud analysis for the Shopify and Advanced Shopify plans.
Shopify also offers a retail Point of Sale (POS) package that includes staff management via individual PINS, hardware integration and a payment gateway. There is also the option to purchase all the needed hardware, such as Barcode Scanner, Cash Drawer, Receipt Printer etc. either as a package or individually. Certain third-party hardware is also supported.
For big enterprises, Shopify Plus is the enterprise level plan.
All phases of setting up and running an online store are taken care of — right from web hosting and customizing the website to SEO and analytics.
Users of Shopify Plus include Google, Wikipedia and Tesla. Even Amazonis using Shopify for it's merchant webstore.
3. WooCommerce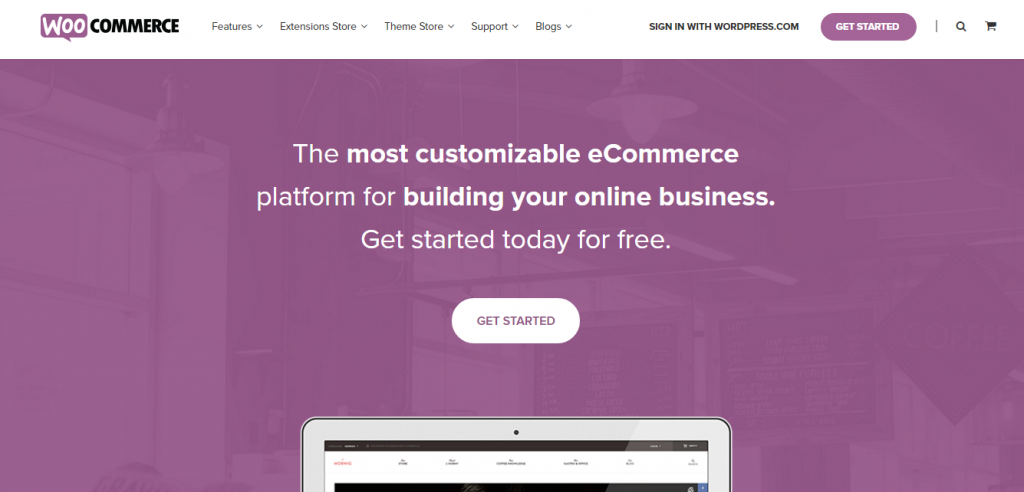 WooCommerce is an open source plugin for hosting an e-Commerce platform on WordPress. WooCommerce is popular for its simplicity and suitability for small as well as larger online stores.
Aided by the affinity people have for WordPress, WooCommerce is a secure and scalable addition to host an online store. The fact that there is an active open source community behind WooCommerce is a major plus point.
While the software for building an online store on WooCommerce is free, hosting, SSL certificate and the top-level domain are not included and need to be paid for separately.
There are tons of integrations on WooCommerce as well. These include Zapier, PayPal, MailChimp, Stripe, United States Postal Service and Amazon Web Services.
Unlike Shopfy however, there is no 24/7 support for WooCommerce via chat or email. Support is in the form of a ticketing system, with usual response time around 48 hours.
Add-on extensions for WooCommerce include social media integration, cart add-ons, one page checkout, waitlist and pre-orders. WooCommerce powered sites include Ripley's Believe or Not!, Duracell Lighting and Men's HealthBox.
4. PrestaShop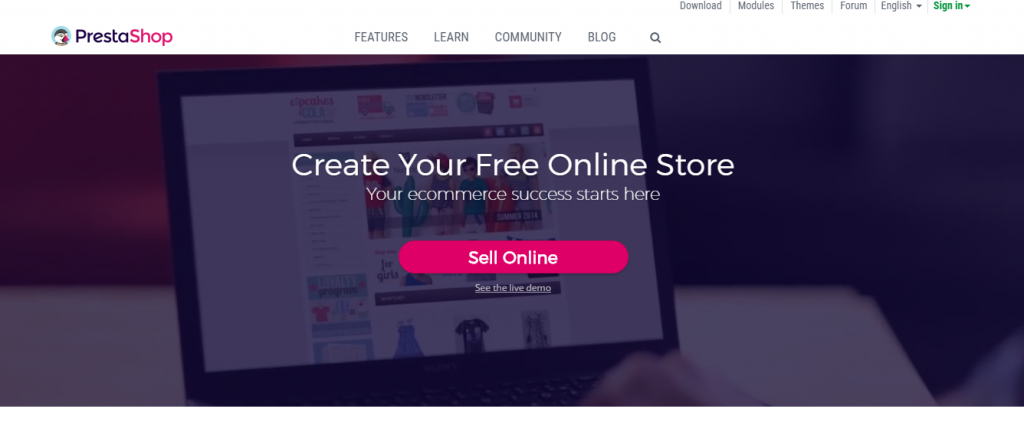 PrestaShop is an open source solution written on PHP, and supported by MySQL database.
PrestaShop offers readymade templates for e-Commerce that can be customized via the Live Configurator. There are also specialized design agencies that can handle setting up and configuring the website.
On the shopping side, the StoreBuilder handles all the basics such as product overview, promotional banners, recommendations after the billing stage, clear cut navigation across the site and a mobile responsive design.
For merchants, there is the option to list unlimited products, display in a catalog mode, free shipping option, inventory management, multiple payment integrations and the option to control multiple stores via one back office.
One thing that isn't offered out-of-the-box is a blog. That can be added as a paid add-on or can be setup via a free blog hosting site.
Apart from the extra effort to setup a blog for SEO, in-store SEO is taken care of by PrestaShop. It offers full schema.org compliance, which in layman terms means that search engines like Google will automatically pick up price, currency, availability and other details for each product page. Apart from the in-built SEO features, add-ons are also available.
5. VirtueMart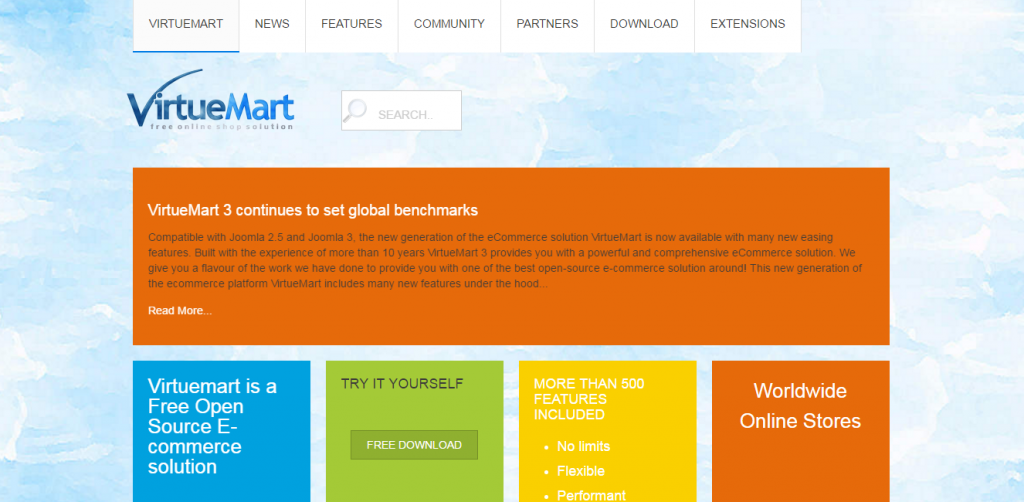 VirtueMart is also open source but runs on Joomla CMS, with a PHP and MySQL backend. It is best suited for low to medium traffic web stores.
VirtueMart offers simplified templates, in which the HTML and CSS code can be edited easily to create a unique look and feel for the website.
For shoppers, there is native language support, multi-currency support, the ability to customize shopping experience (such as offering 5% discount to returning customers), product recommendations and tracking orders. Customers can also checkout with a guest account or by registeringtheir themselves.
For merchants, there is in-built SEO, the ability to organize the site into nested groups, inventory management, a unified calculator for discounts, tax and currency handling, and payment gateway integration.
Thanks to Joomla's access control feature, store owners can also setup visibility and editing rights for employees.
Supporting VirtueMart is Joomla's community of developers. Because Joomla has an open architecture, you also have the option of creating and adding extensions for your specific requirement without having to worry about the core engine.
6. Drupal Commerce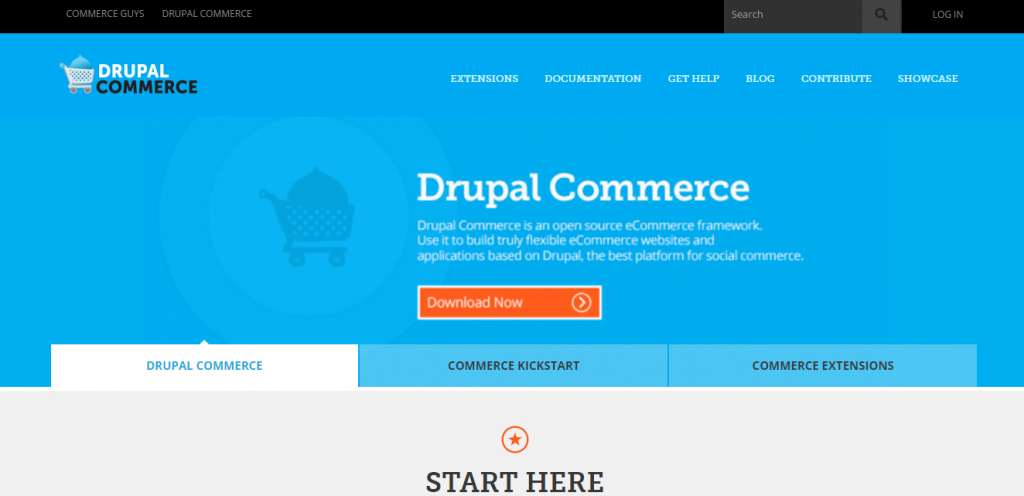 Powered by the Drupal Content Management System is a great advantage for Drupal Commerce. This gives it the powerful functionality of its native CMS but there is also the trouble of Drupal lacking backward compatibility, which means migrating to a new version of the CMS can be slightly cumbersome.
On the plus side, Drupal Commerce is flexible, easy to use and extensible. It is used by sites such as Fooda, Guerlain and Lush.
There are a number of add-ons and extensions available such as payment gateways, themes, utility and marketing tools etc. The 'Commerce Kickstart' package gives a starter package with the most common add-ons to get you started quickly.
Drupal Commerce has all the standard features such as SEO-friendliness, PCI compliance for safe payments and analytics for your site.
As powerful as Drupal's setup is, for customizing the site though developers would require advanced knowledge of PHP and HTML. However, this same power enables Drupal to handle complex commerce systems too, such as a subscription-based model.
Support is provided by Commerce Guys, the original team behind Drupal, but there is also the Drupal community to ask for help.
7. osCommerce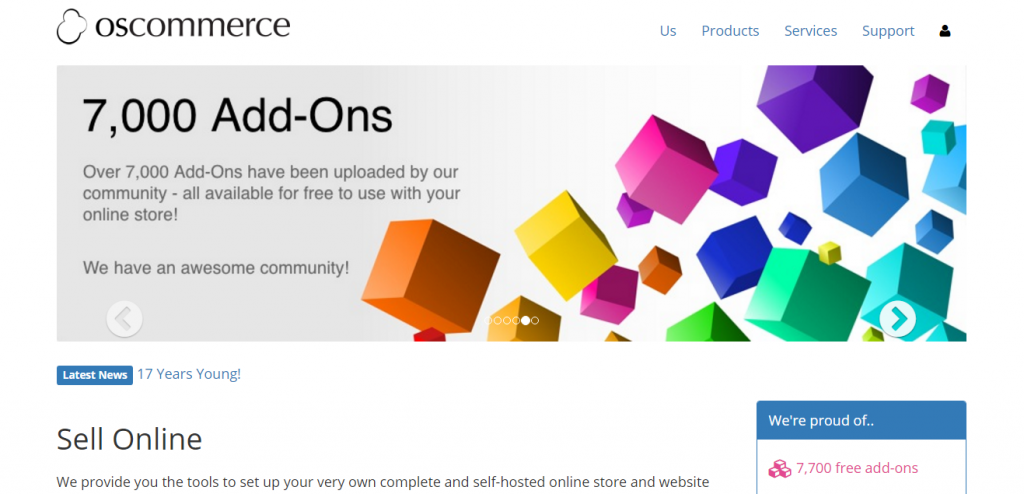 osCommerce is available as a free software and works on any web server running PHP and MySQL.
The Online Merchant solution comes with a front end and back end admin that can be configured and customized with over 7,700 add-ons.
The web store software does not include hosting or developer services. Those are available separately via partners.
SEO optimization is also available via developers along with other marketing services such as PPC.
Unlimited categories and product listing is available, as is a multi-lingual setup. Another plus point on osCommerce's side is the option for lifetime upgrades and the great support provided.
While there aren't many popular adopters of osCommerce, there are over 80,000 sites using it.
8. OpenCart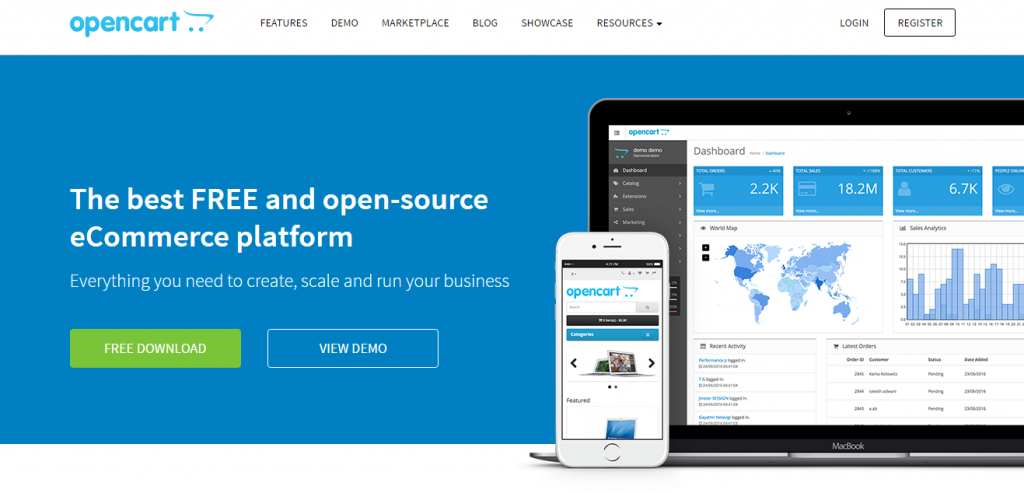 OpenCart is built on PHP along with HTML components and a MySQL back end. It a free and open source solution. Some of it's users are Episodes bags, Maca do Amor perfumes and Food Genuine.
It comes with an admin dashboard, a user management system, the option to operate multiple stores from one interface and an inbuilt Affiliate system.
Along with this is the option to freely modify the site, create filters to simplify navigation and support for multiple languages and currencies. The system also has a built in review & rating setup as well as a reward points option for customer.
OpenCart offers up to 36 payment methods integration, hundreds of shipping methods on to choose from including Australia Post, FedEx, UPS and Royal Mail. Customers can also setup recurring payments.
Analytics are provided along with the ability to extend OpenCart's functionality via add-on modules, such as Featured products, Bestsellers, Google analytics integration etc. The OpenCart marketplace has more than 13,000 modules (a mix of paid and free) and a partner program should you need assistance in setting up and configuring your web store.
The software also offers mobile responsive design along with SEO optimization and ready made marketing tools.
Support for OpenCart is a paid feature. There is also the OpenCart community to fall back on for assistance.
9. hybris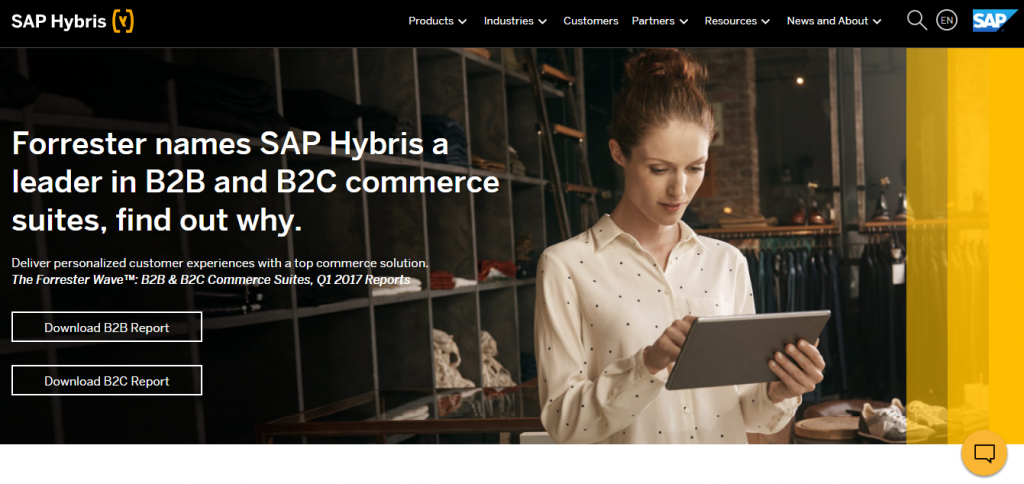 hybris is an "omni-channel" eCommerce solution that is part of SAP's software portfolio. It powers the web stores of some of the world's leading brands like Volkswagen, Carlsberg, Pirelli and Ericsson.
hybris can be used to power the website on your own server or the website can be hosted on hybris's cloud-based solution. The product targets both B2B and B2C customers.
It provides a high level of customization and rapid scalability as the business expands and changes.
hybris offers advanced personalization (based on real time behaviour)and targeting of customers, support for complex product configuration and good search & navigation features.
Special self-managed accounts can be setup for B2B customers, wherein they can give access rights to their employees, set purchasing and budget limits etc.
The downside to using hybris is the high cost, which makes it not very suitable for small businesses, and the lack of community support.
10. SquareSpace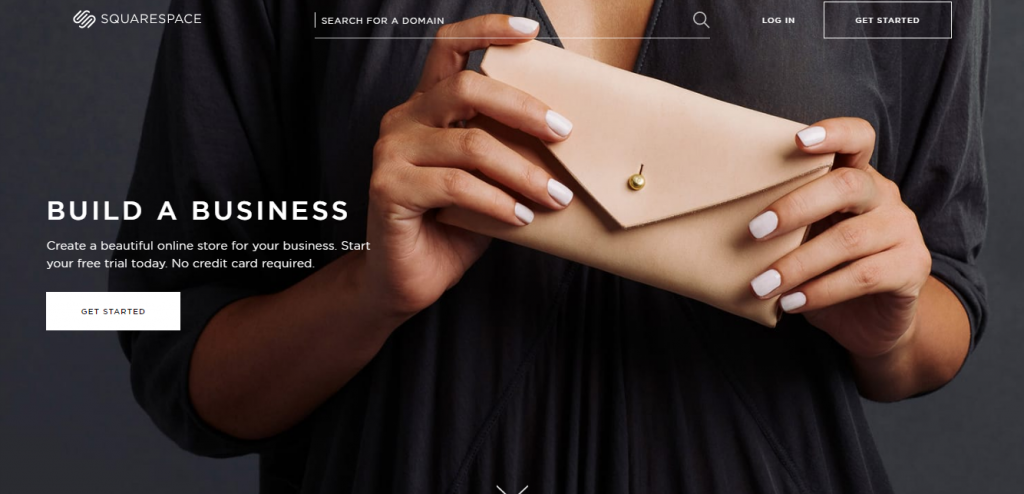 While focused mostly on personal websites, SquareSpace is also catering to the eCommerce domain now. It offers customization and the ability to add media such as images or videos to your website, with the Getty Images customization especially useful for that.
It also offers social media integration with the online store.
SEO and mobile responsiveness is taken care of by SquareSpace. Custom CSS can also be applied to the web store.
User Data Collection is simplified with email and MailChimp integrations. There is the option to provide a newsletter signup too for building a Mailing List.
Unlimited products can be listed and templates for eCommerce are available to quickly sort and organize things. Additional features include Product Quick View, importing products from Etsy, Big Cartel or Shopify, no transaction fee on the Commerce plan, multiple currency support, mobile optimized checkout, sales analytics, order management & recovery, and manager & employee permissions.
Conclusion
Choosing the right CMS or hosting service for your business depends greatly on what your budget is and what technical know-how is, whether you're willing to hire an agency to setup the site for you or hire an in-house development team. Some other questions to think about are how much do you see yourself scaling and how quickly, what kind of support do you anticipate you will need and do you want complete control of your data on your server or are you comfortable hosting it on an external cloud solution.
If you're a small business with sound web development knowledge then Magento or WooCommerce would be a good service to use. If you would like to save on the technical setup, then consider Shopify or SquareSpace for their quick setup and well priced solutions.
For bigger businesses, Magento Enterprise Edition would be a good option if working with a web development team, otherwise hybris is the way to go.