A few days ago SmarterASP.NET announced that they had been attacked by Ransomware. On Saturday, the company fell victim to a ransomware attack that resulted in its customers' data being encrypted. The company began operating in 1999, has data centers in the United States and Europe and serves more than 440,000 customers worldwide.
On social media, like Facebook and Twitter, affected customers report that even the hosting provider's website is not accessible at first. Unfortunately, even after the site is restored, the control panel cannot be opened.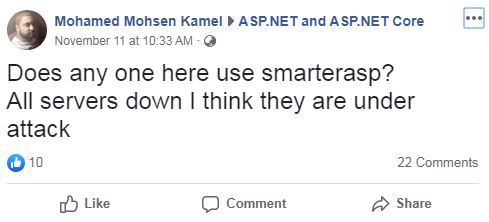 Apparently, SmarterASP.NET failed to notify the customer about the incident immediately. On the page of the live chat box, the company said they suffered a massive blackout, but did not provide additional information.
On Sunday, the company revealed that it had experienced a ransomware attack, and also noted that recovery efforts were underway for all affected customers.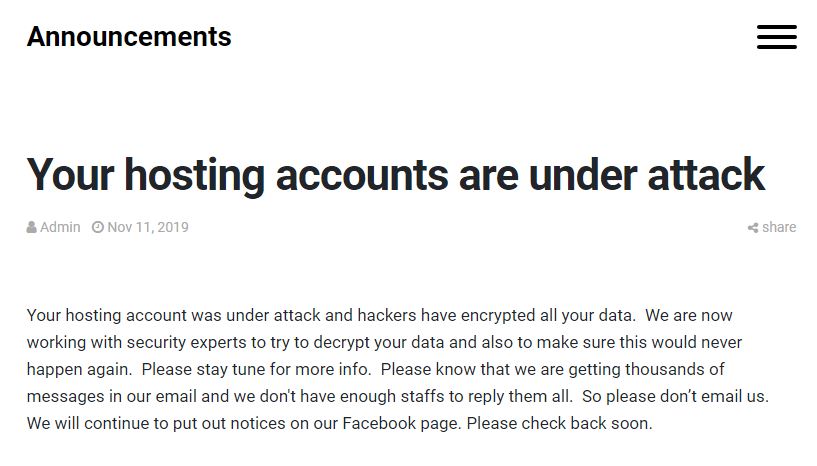 Although no information was provided about malware, screenshots posted online by several affected customers revealed that they had added the .kjhbx extension to the encrypted file.
In a subsequent message posted on its website on Monday, the hosting provider said several customer accounts were hacked and the data was locked by the hacker.
At the same time, SmarterASP.NET noted that they had found a solution to this problem, but did not disclose whether it involved paying a ransom or returning customer data from a backup.
"We now have a solution to solve this problem. However, we need time to improve your account. Stay tuned, we will provide more updates because we are restoring your account now, "the company said.
The company claims to have recovered more than 95% of the affected accounts, but, given the number of customers the company has, it may still take several days before services are fully restored for all affected.
Some company customers use Twitter to express their dissatisfaction because they suffered downtime from the incident, and some even said they had looked for a different provider.



Some of those who have regained access to their data say their database has been restored without losing data.
SmarterASP.NET is the third hosting provider that has been affected by ransomware for the past few weeks. A2 Hosting and iNSYNC are also affected.
If you are looking for a replacement to move your hosting, or you are a new user and are looking for hosting recommendations, we strongly encourage you to consider asphostportal. They are an ASP.NET hosting company that is experienced, reliable and has a friendly support team and is ready to help you 24/7.