Feeling confined at the idea that only WooCommerce comes to your mind when aiming to establish an online store? Who would not want to give WooCommerce a shot? It's the most popular eCommerce plugin for WordPress.
More than 30% of all online stores are built with WooCommerce. It's easy to install, use, and customize according to your preferences. No wonder it already has more than 60 million downloads. We've even put forward a definitive guide to set up your own WooCommerce site.
But, even if it's the most popular one, it may not be for everyone. It may not be for you. Depending on the requirements of your online store, there are WooCommerce alternatives that may be the better solution for your needs.
So, I've listed down the best alternatives to WooCommerce. Some of them are self-hosted software and some are hosted eCommerce software.
What's the difference? Well, a self-hosted software is more like a do-it-yourself where you need a WordPress hosting, and install software such as WordPress and WooCommerce. The good thing about it is that you have more control on the customization of your online store.
On the other hand, a hosted eCommerce software is a ready-to-go package. You don't need to worry about getting a web host or securing your website. Plus, you'll get a greater level of support.
1. Easy Digital Downloads
If you're planning to sell digital goods such as music, ebooks, movies, and software online, then Easy Digital Downloads is a good plugin for you. When you have this plugin activated on your website, you can now have an online digital store.
With the basic plugin, you can easily manage your software licenses and accept payments.
The good thing about Easy Digital Downloads is that it's free. If you need some more functionalities, you can purchase its extensions either individually (just like WooCommerce) or in bundles which start at $99 per year.
What makes it a better choice than WooCommerce?
Well, if you're planning to sell only digital downloads, then Easy Digital Downloads simplifies the process in managing licenses, downloads, and users, as well as accepting payments.
Easy Digital Downloads builds digital product pages and a checkout page that accepts Amazon and PayPal payments. There are also other payment extensions if you need more options for payment gateways. Plus, it includes analytics, affiliate system, discount and refund system, and more.
You can also use WooCommerce in selling digital goods but it has a lot of features for physical goods that make the interface a bit cluttered. Plus, you need to install several add-ons for managing licenses and permissions, and other features for virtual products.
Can you not use Easy Digital Downloads if you plan to also sell physical goods? Sure you can. You just need add-ons for this.
But, I'd rather use WooCommerce if I sell both physical and digital goods.
2. Shopify
Shopify is a full hosted eCommerce platform. This means that you don't need to use WordPress to run your online store. You don't need to manage the installation, updates, and backups of your online store.
So, if you want a quick and easy set up of your online store and start selling immediately, then Shopify is a better solution for you.
You can build your online store in just a few minutes with its drag-and-drop functionality. You can choose from more than a hundred mobile-ready themes that Shopify offers. So, even if you're a non-techie, you can have a beautiful eCommerce website.
You can even get premium support in case you need help with the customization of the design and functions of your online store.
Shopify has a free 14-day trial period and at the end of this period, you can purchase a plan that starts at $13 per month.
Since Shopify is a hosted platform, you don't have much control over your website as compared to a WooCommerce store. Plus, you have to pay for transaction fees which increase as you start selling more.
If you have a WordPress website, you can install the WPShopify plugin to sync your Shopify store and import your products.
3. Gumroad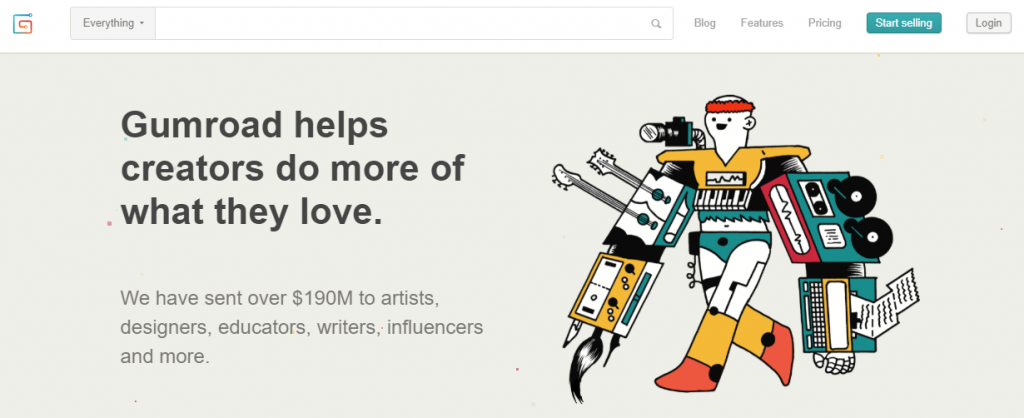 Whether you want to sell digital or physical goods, pre-ordered items, or subscriptions online, Gumroad is a great solution for you.
This is especially useful for designers, artists, photographers, and writers. And, if you're using WordPress, you can install the Gumroad plugin to embed Gumroad into your website.
With Gumroad, you can offer multiple versions of your product such as a PDF, Mobi, ePub, or audio version of your book. You can even generate license keys and create discount codes.
You can also sell your products in the currency that your audience is using. Or, have them pay what they wish for your product by adding a + sign to your product's price.
If you're selling physical products, you can set any variant you like, for example, sizes or colors. You can set shipping rates and charge your buyers based on their location.
You can also manage your shipping by marking your packages as shipped and update your customers by sending them the tracking numbers. I'm pretty sure they will love you for that. Customers need assurance that the products they paid for will be delivered at their doorstep.
Not only these – you can even customize your profile and create customized previews for social sharing. Gumroad also has a built-in affiliate system that you can use.
Gumroad also analytics that allows you to know which one is working for your business and which one is not.
It's free to use but if you want more professional features, you can upgrade to a premium plan that starts at $10 per month.
4. MemberPress
If you're planning to charge your users for accessing your content through subscriptions or memberships, then MemberPress is a very easy to use membership plugin for your WordPress website.
You have the control to who can access your posts, feeds, videos, and any other kind of content that you have. It also integrates easily with WordPress for managing your content, communities, and forum.
Almost all the features that you need can be found in MemberPress, from digital downloads, to subscription management, to drip content, to coupon code generation, and pricing pages.
In WooCommerce, you have to purchase multiple extensions before you can start selling memberships or subscriptions. This means it can be more costly as compared to MemberPress which has almost everything you need. WooCommerce offers more payment gateways, though.
If you want to sell physical products as well, unfortunately, MemberPress does not have the traditional shopping cart feature. But, you can use it together with WooCommerce.
Pricing for MemberPress plans start at $129 per year.
5. Magento
Magento is a standalone platform that allows you to customize your eCommerce store. I bet you would never need an extension with Magento as it already has every desirable feature for an eCommerce platform.
WooCommerce, on the other hand, is not that easy to setup and customize. Plus, if you're a non-techie, you might even need to hire a professional to set your store up for you.
If you're a big business aiming for fast growth, then Magento is perfect for you. It can easily adapt to the needs of the market in real time. Plus, with its mobile-first approach, you can quickly reach the growing mobile shopping market.
If you have a WordPress website, you can easily integrate your Magento store with using the Magento 2 WordPress plugin.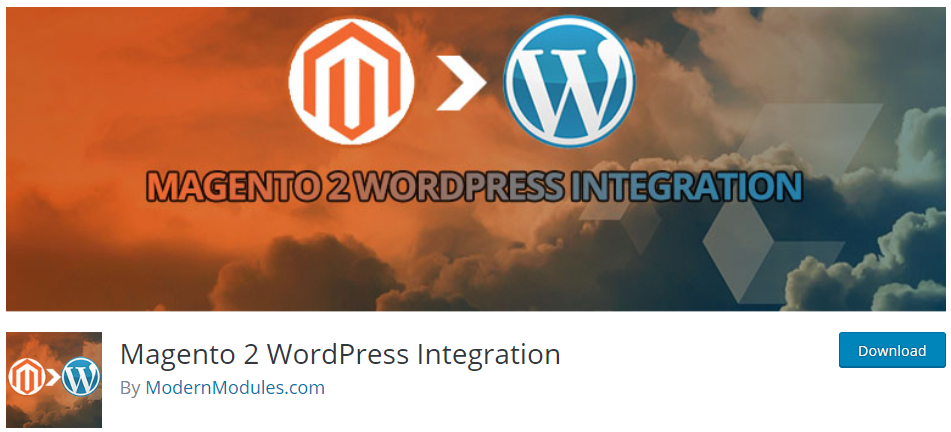 You can also use the Mag products integration for WordPress plugin to list your Magento products on your WordPress page or blog post.
Magento is an Adobe Company. And when it's Adobe, I bet it's pricey. If you want to purchase Magento, you need to schedule a call to the sales team for a demo. Or, you can avail the services of implementation partners. Pricing varies depending on which partner you choose.
Conclusion
WooCommerce is indeed a powerful eCommerce tool. But depending on your needs, there can be a better solution out there that go beyond your expectations.
Easy Digital Downloads is for digital goods. Gumroad is for the creative ones. MemberPress is for subscriptions and memberships. Shopify is for physical products. Magento is for big businesses. Take your pick and soar high with your eCommerce store of your dreams!