WordPress is the most popular and widely used blogging platform. It supports every kind of website, from a simple blog to a full-featured business website. 26% percent of all websites globally use WordPress. As a result of this popularity, hackers and spammers have taken a keen interest in breaking the security of WP-operated sites.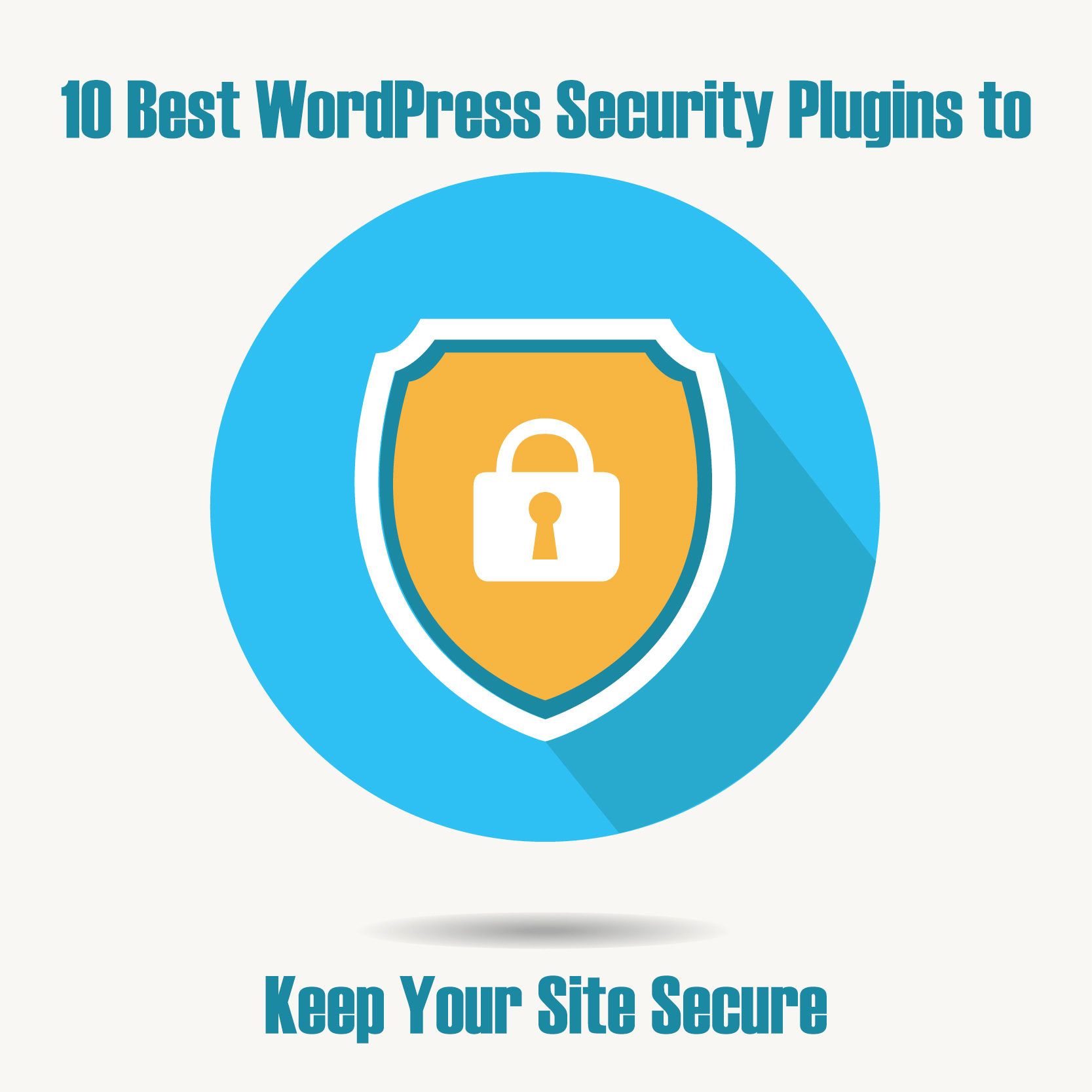 In this post, we're going to cover some of the best WordPress security plugins that can help reduce the risk of your website being hacked. These security plugins offer several features to make your WordPress blog secure from known vulnerabilities.
Here is a list of some of the top security plugins that can be used to keep your WordPress site secure:
Your First Priority Should Be Secure Hosting
The security of your site is only as good as the backend and foundation it's running on. That's why it's important, before looking into security plugins, that you choose a WordPress host that has security measures already place.
Many of these safeguards are done at the server-level, and can be far more effective, without harming performance on your site. Not to mention you don't have to spend time fiddling with a bunch of security settings in plugins which in you might not even understand their functionality or purpose.
Best WordPress Security Plugins
If you're in a hurry, feel free to click on the following links to test out the security plugins and make your own decisions. If you'd like to see our in-depth analysis, keep reading!
Sucuri Security – Auditing, Malware Scanner and Security Hardening
iThemes Security
Wordfence Security
WP fail2ban
All In One WP Security & Firewall
Jetpack
SecuPress
BulletProof Security
VaultPress
Google Authenticator – Two Factor Authentication
Most worthwhile security plugins have a price tag, but there are a few that come with limited functionality for free.
We'll talk about the pricing, but it's more important to understand what each plugin is going to do for you. Ultimately, it's all about figuring out the best way to keep the bad guys away from your investment–and sometimes that means spending a little money.
1. Sucuri Security – Auditing, Malware Scanner and Security Hardening
The Sucuri Security plugin offers both free and paid versions, yet the majority of websites should be fine with the free plugin.  For instance, the website firewall requires you to pay for a Sucuri plan, but not every webmaster feels like they need that type of security.

As for the free features, the plugin comes with security activity auditing for seeing how well the plugin is protecting your website. It has file integrated monitoring, blacklist monitoring, security notifications, and security hardening. The premium plans open up customer service channels and more frequent scans. For instance, you might want a scan to be completed every 12 hours. For that, you'd pay about $17 per month.
2. iThemes Security
The iThemes Security plugin (previously known as Better WP Security) is one of the more impressive ways to protect your website, with over 30 offerings to prevent things like hacks and unwanted intruders. It has a strong focus on recognizing plugin vulnerabilities, obsolete software, and weak passwords.

Although some basic security features are included with the free version, we highly recommend upgrading to iThemes Security Pro for the low price of $80 per year. This provides ticketed support, one year of plugin updates, and support for two websites. If you'd like to protect more sites, you have the option to upgrade to a more expensive plan.
As for the primary features in the pro version, iThemes Security Pro provides strong password enforcement, the locking out of bad users, database backups, and two-factor authentication. These are only a few of the ways to protect your site with this WordPress security plugin. You can activate 30 total security measures, making iThemes Security Pro a great value.
3. Wordfence Security
Wordfence Security is one of the most popular WordPress security plugins, and for good reason. This gem pairs simplicity with powerful protection tools, such as the robust login security features and the security incident recovery tools. One of the main advantages of Wordfence is the fact that you can gain insight into overall traffic trends and hack attempts.

Wordfence has one of the more impressive free solutions, with everything from firewall blocks to protection from brute force attacks. However, a premium version is sold starting at around $99 per year for one site.
The plugin creators also make it cheaper for developers, providing steep discounts when you signup for multiple site keys. For instance, opting for 25 keys cuts the price to about $29 per year for each site. Overall, it pays to consider Wordfence if you're developing multiple websites and want to protect them all.
4. WP fail2ban
WP fail2ban delivers one feature, but it's a rather important one: protection from brute force attacks. The plugin takes a different approach which many see as more effective than what you get from some of the security suite plugins listed above.

WP fail2ban documents all login attempts, regardless of their nature or successfulness, to the syslog using LOG_AUTH. You have the option to implement a soft or hard ban, which is different from the more traditional approach of only choosing one.
There's not much to know in terms of configuration for the WP fail2ban plugin. In fact, all you have to do is install it and let it do its magic. In addition, the brute force security plugin is completely free so you don't have to worry about spending any money. This plugin is truly a standout, since the users consistently report that it works flawlessly.
5. All In One WP Security & Firewall
As one of the most feature-packed free security plugins, All In One WP Security & Firewall provides an easy interface and decent customer support without any premium plans. This is a highly visual security plugin with graphs and meters to explain to the beginner's metrics like security strength and what needs to be done to make your site stronger.

The features are broken down into three categories: Basic, Intermediate, and Advanced. Therefore, you can still take advantage of the plugin if you're a more advanced developer.
The main ways this plugin works is by protecting your user accounts, blocking forceful attempts on your login, and enhancing the user registration security. Database and file security is also packaged into the plugin.
6. Jetpack
Most people who use WordPress are familiar with Jetpack, and it's mainly because the plugin has so many features, but it's also because the plugin is made by the people from WordPress.com. Jetpack is filled with modules to strengthen your social media, site speed, and spam protection.

There are so many features in Jetpack that it's definitely worth exploring.
Some security tools are included with Jetpack as well, making it an appealing plugin for those who want to save money and rely on a reputable solution.
For instance, the Protect module is free and it blocks suspicious activity from happening. Brute force attack protection and whitelisting is also supported by the basic security functionality from Jetpack.
That said, the paid versions of Jetpack are more powerful when it comes to security. For instance, the $99 per year plan includes malware scanning, scheduled website backups, and restoration if anything goes wrong. Furthermore, the $299 per year plan offers on-demand malware scans and real-time backups for the ultimate protection.
7. SecuPress
SecuPress is a newer security plugin on the market (originally released as freemium in 2016), but it's definitely one that's growing rapidly. It's actually developed by Julio Potier, one of the original co-founders of WP Media, who you might recognize, as they develop WP Rocket and Imagify. There is both a free version and premium version which includes a lot of additional features.

If you want a security plugin that has a great UI and easy to use interface, SecuPress is definitely the plugin to go with. The free version features anti-brute force login, blocked IPs, and a firewall. It also includes protection of your security keys as well as blocks visits from bad bots (which you usually have to pay for in other security plugins).
If you want even more features, their premium versions starts at $59 a year per site and includes additional features such as alerts and notifications, two-factor authentication, GeoIP blocking, PHP malware scans, and PDF reports.
8. BulletProof Security
The BulletProof Security plugin has both free and premium versions. The paid option sells for a one-time payment of $69.95 and is actively developed, updated, and probably contains more features than most of the other security plugins on the market.

They provide a 30-day money back guarantee, and you receive features for quarantines, email alerting, anti-spam, auto-restore, and more.
It's not the most user-friendly WordPress security plugin, but it does the job for advanced developers who want to take advantage of unique settings and features like the anti-exploit guard and the online Base64 decoder. It also has a setup wizard auto-fix feature to help make it a little easier.
9. VaultPress
It's important not to forget VaultPress, since it works similar to plugins like iThemes Security Pro and Sucuri Scanner. You need to pay in order to get any type of protection, but the plans start at only $39 per year, making it one of the more affordable premium security plugins.

The website states that this plan is more for small businesses and bloggers, but you also have the option to upgrade to a more powerful plan for either $99 per year or $299 per year.
The daily and real-time backups are the bread and butter of the operation, with a beautiful calendar view for specifying when you'd like to complete your backups. You can also complete site restores with a quick click of the mouse.
What's more is that the restore files are logged in the dashboard, and several of them are stored so that you can choose which one you want. The best part of VaultPress in regards to backups is that they are incremental. This is great for performance.
The primary security tools monitor suspicious activity on your website, with tabs for viewing your history and seeing which threats have been dealt with or ignored. You can also check out stats and manage your entire security detail from the convenience of a clean dashboard.
10. Google Authenticator – Two Factor Authentication
The majority of plugins that have individual security features don't make much sense to install. The reason for this is because you can typically go with a plugin like iThemes Security Pro and get that one feature along with dozens of other ones. However, two-factor authentication is a different story, since it seems like most security suites don't include it. Therefore, it might make sense to harden your login security with a plugin like this.

The Google Authenticator plugin adds a second layer of security to your login module, which is rather important since the majority of hacking attempts happen with the login. In addition to your regular password, this plugin either sends a push notification to your phone or some other form of authentication such as using a QR code or asking a security question.
This way, your login becomes far less penetrable since the second layer is most likely something that only you know or have on your person (like your phone).
This WordPress security plugin doesn't require any payment, and the interface is easy enough to understand. Besides choosing the type of authentication, another cool feature lets you specify which type of user role should have to go through the authentication.
So, you can allow admins to get in easier, but you might ask that authors or other users go through the two-factor process.
The only problem is that the two-factor authentication makes it rather difficult to log in to your backend with a mobile device.
Conclusion
Of course, we can't cover all the plugins out there. These are simply those we recommend based on our experience with users. With an increasing number of hacking attacks, it is necessary to have security in your WordPress website. The security plugins mentioned above will help you with that. For users who don't code a lot, plugins are the best ways to secure your blog. Most of them are free, safe and easily usable.