Cheap European WordPress 4.6 Hosting
WordPress is a free and open-source blogging tool and a content management system (CMS) based on PHP and MySQL. Features include a plugin architecture and a template system. WordPress was used by more than 23.3% of the top 10 million websites as of January 2015. WordPress is the most popular blogging system in use on the Web, at more than 60 million websites.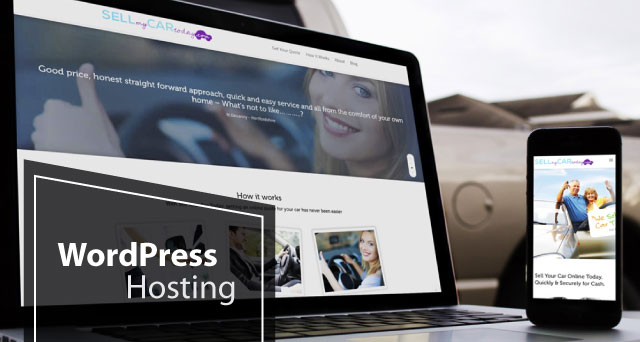 What is New in WordPress 4.6?
The latest version of WordPress is 4.6. WordPress 4.6 is now available. 
Native System Fonts in WordPress 4.6
WordPress started using Open Sans from Google Fonts project, as the default font so that the admin interface looks the same on different platforms and devices. However, this meant a tiny compromise on speed and relying on a third party project.
Since 4.6, WordPress will now use your native system font for the admin area. This will make WordPress load faster and feel like your native device and platform.
Shiny Updates for Plugins & Themes
Previously, when you installed a plugin or theme from WordPress.org, it showed you a progress screen. This added a page load and increased the time spent on installing plugins and themes.
WordPress 4.6 makes it faster to install and update your WordPress plugins and themes without leaving a page.
Editor Enhancements in WordPress 4.6
Each new version of WordPress brings improvements and new features to the post editor. WordPress 4.6 introduces some cool new enhancements to the edit screen.
Highlighting Broken Links in Visual Editor
Sometimes users end up adding a broken link or improper URL in a post. If you publish the post, then that misspelled link goes live too.
Since 4.6, WordPress will now attempt to check for broken or poorly formatted links when you are using the Visual Editor. If a link is broken, then it will highlight the linked anchor text with red dots, showing the link URL in red.
Better Auto-Save and Recovery
WordPress 4.6 comes with a better disaster recovery mode for the auto-save feature in the post editor. Previously, when users disabled revisions, it affected restoring drafts from browser cache and autosave feature.
This issue is now fixed and users will be able to easily restore posts from browser backups and autosave.
A Better Looking Import Screen
WordPress makes it super easy to import content from Blogger, Tumblr, and several other platforms using the Importer plugins located at Tools » Import page.
WordPress 4.6 makes the import screen more readable and accessible.
Localization and Translation Improvements
Translations from WordPress.org hosted community translations will now be given preference over the translations included with the plugin.
The jQuery UI date picker is now displayed with proper locale.
Declension of comment numbers, and months in different languages are now properly handled.
Under The Hood Improvements
WordPress 4.6 also brings lots of new improvements for developers. Here are some of those under the hood improvements.
Resource Hints
Resource hints is a new W3C specification, which allows browser to connect and prefetch resources to improve performance. (#34292)
Improved Meta Registration
WordPress 4.6 introduces register_meta() function for the registration of meta keys. It works like register_post_type() function and allows developers to use a standard way to work with metadata. (#35658)
Persistent Comment Cache
WordPress 4.6 allows comments to be cached as a persistent object type. This means comment cache is properly validated and updated when there are changes. (#37613)
WP_Post_Type Class
WordPress 4.6 introduces the new WP_Post_Type class. It changes $wp_post_types to an array of WP_Post_Type objects. This provides methods to handle post type supports, rewrite rules, meta boxes, hooks, and taxonomies. (#36217)
WP_Term_Query Class
The new WP_Term_Query class in WordPress 4.6 provides a better structure for generating term queries. (#35381)
Cheap European WordPress 4.6 Hosting
When it comes to choosing the best WordPress 4.6 Hosting, we're bound and determined to find out which company is providing the most value. There are some major components that make up a great host in our opinion, and those are Performance, Knowledge, Speed, Reliability of Support, and Pricing and the overall product offering. After reviewed many WordPress 4.6 hosting provider, we highly recommend ASPHostPortal for your WordPress hosting solution. The following are some reasons why ASPHostPortal should be your choice.
Without further ado, ASPHostPortal.com was one of our top performers, and is especially impressive considering the $5.00 price point for their startup WordPress 4.6 hosting plan. ASPHostPortal has been offering hosting services for more than 8 years and is a good option if you are looking for shared hosting. They offer great, reliable hosting at an incredibly good price that is hard to beat from a reputable company. Not only that ASPHostPortal also offers very reliable hosting with easy installation of WordPress 4.6, 24/7 support, and a long track record.
All of their servers run the latest versions of WordPress so they will always be able to support your site. All of their servers run the latest versions of WordPress so they will always be able to support your site. You will install WordPress site for free. ASPHostPortal provides multiple server locations, free CDN and advanced caching options to make both yours and your customers' experience with WordPress really fast and enjoyable. They also make sure that your WordPress website is safer and better supported than anywhere else.
Everything starts with impeccable support. The unmatched knowledge, experience, and dedication of their team truly make them stand out. They understand that people are the most important piece of the service they provide, and that is why they are at the top of the list. You'll notice the difference the first time you talk to one of their WordPress experts.
ASPHostPortal offers affordable price for WordPress hosting plan. Customers can start their WordPress site just from $5.00/mo. They are so confident that you will like their service, so they brave to offer a 30 day money back guarantee on hosting fees. Just cancel before 30 days, and they will refund your entire hosting fee. You can get cheaper price with their hosting promotion and free add-ons too, for more information just visits their official site at http://asphostportal.com.
Their data centers are strategically located around the country to provide their customers with the highest levels of availability, service and support on the market. Their data centers located on US (Washington & Seattle), Netherlands (Amsterdam), Singapore, Hong Kong, United Kingdom (London), Australia (Melbourne), France (Paris), Germany (Frankfurt), Italy (Milan), India (Mumbai). Each Data Center is custom designed with raised floors. Each Data Center is equipped with HVAC temperature control systems with separate cooling zones, seismically braced racks, advanced early smoke detection and fire suppression systems. Their Data Centers are supported by some of the most powerful physical security in the business. They have 24/7 video surveillance, security breach alarms and Biometric thumb print scanners at every entryway.
Are You Looking for CentOS Linux Dedicated Server?

You have many options when choosing a Reliable Dedicated CentOS Linux hosting company. Our recommendation for CentOS Linux Dedicated Server is ASPHostPortal.com. ASPHostPortal.com is the best and cheap CentOS Linux Dedicated Server.

With CentOS Linux dedicated server from ASPHostPortal.com, you have full root access to the server 24/7/365. The server is a dedicated service and it is not shared among their clients. All ASPHostPortal.com servers offer the most advanced CentOS Linux Dedicated Server operating system available today.