In this post, we will tell you about easy Joomla SEO tips without additional extensions. Joomla contains rich features in its native form and can do a host of Search Engine Optimisation (SEO) features without the need for additional Joomla extensions.
This is unlike some Content Management Systems (CMS) like WordPress, where, in order to optimise for SEO, you would need plugins like Yoast. Many SEO functions can be conducted out of the box, and is part of the reason why CLASS prefers Joomla as a website CMS and platform for designing websites. However, you must note that there is a place for Joomla extensions in SEO, Joomla cannot perform all SEO functions on its own, but it can perform many. We are covering three main topics today:
Joomla Website Settings (Global Configuration)
Metadata (e.g. Meta Description & Meta Keywords)
301 Redirects (What to do with 404 errors)
Joomla Website Settings – Global Configuration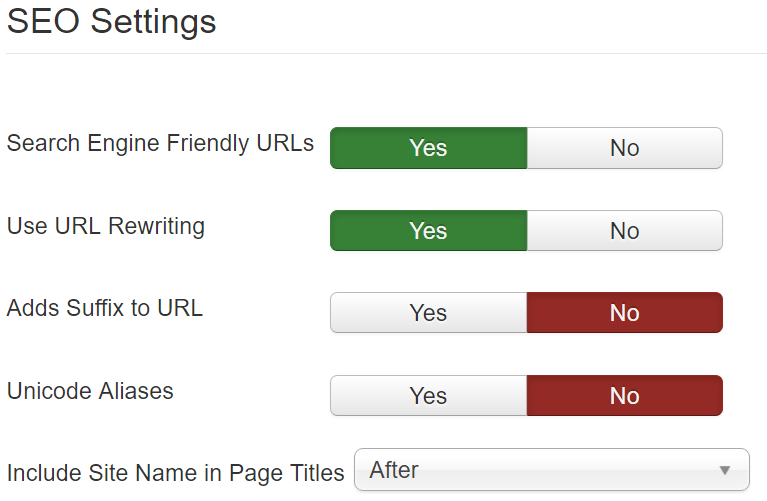 These settings are in the Global Configuration section of your Joomla back end. There are five settings we will go through in this section as seen above. The settings are:
Search Engine Friendly URLs
This setting radically shortens and improves the URLs. Here is an example of how it works:
Enabled: http://www.joomla.com/index.php/2-category-name/1-article-name
Disabled: http://www.joomla.com/index.php?option=com_content&view=article-name&id=1:joomla&catid=2:category-name&Itemid=101
Shortening URLs is very important for SEO.
Use URL Rewriting
This setting removes the /index.php/ from the URLs, making it shorter and optimised for SEO. Here is an example of how it works:
Enabled: http://www.joomla.com/2-category-name/1-article-name
Disabled: http://www.joomla.com/index.php/2-category-name/1-article-name
You should enable this to further shorten your URLs for SEO.
Adds Suffix to URL
This setting adds .html to the end of URLs. Here is an example of how it works:
Enabled: http://www.joomla.com/2-category-name/1-article-name.html
Disabled: http://www.joomla.com/2-category-name/1-article-name
It is unnecessary to add suffixes to URLs because it extends the URL and is detrimental to SEO.
Unicode Aliases
This setting is only necessary when using multilingual websites or websites with a language that does not have Roman characters. Hence, you should only enable this setting if you are using languages other than English such as Chinese or Arabic, which do not have Roman characters. If you disable this setting, your URLs will only contain A to Z characters and alphanumeric characters.
Include Site Name in Page Titles
This setting allows you to control the inclusion of your Site Name in Page Titles. There are three options:
For SEO purposes we suggest you place the Site Name After, e.g. "Home – CLASS Digital Marketing" in the header.
We do not recommend placing it before as all the Page Titles will display the Site Name first, taking up valuable and needed space in the search engine. Here is an example of placing the Site Name before the Page Title: "CLASS Digital Marketing – Home".
The last option is not to include it at all, which is not a bad choice and still viable if you wish to help SEO.
Metadata Settings
Joomla allows you to edit certain metadata characteristics out of the box. You generally do not need to install additional extensions to edit page metadata, unlike WordPress, where you have to rely on third party plugins like Yoast. The advantage in this is that by not downloading additional extensions for your Joomla website, especially obscure free extensions, you are able to edit the metadata right away without any additional downloads. This is in stark comparison to WordPress where you have a plethora of plugins to choose from, some of which may be shady and pose security threats. Let us now revisit the Global Configuration page of your Joomla website back end: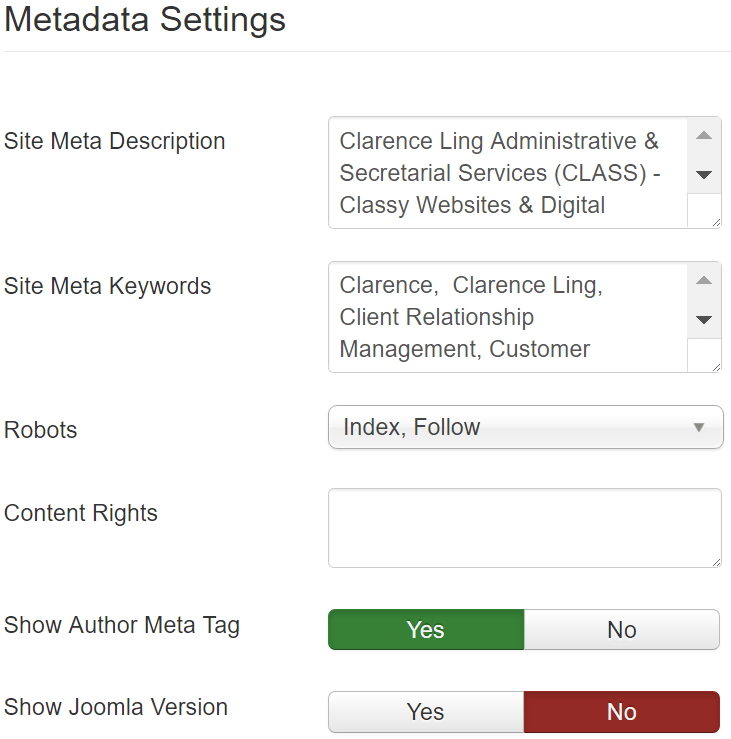 Using the Global Configuration, you can edit the Meta Description of your Joomla website. This description would be the default description, notwithstanding any specified or overriding meta description in other pages. The Meta Description is what appears in search engines when previewing your website. You are also able to input Meta Keywords, but this is generally unnecessary because modern search engines do not pay attention to this as people tend to stuff irrelevant keywords in this section, so it no longer becomes a consideration for SEO. Regardless, if you only have a few keywords you actually want, there is no harm in inputting Meta Keywords.
You should not play around with the rest of the settings in this section, and the Robots field is particularly sensitive. "Robots" basically enables your website to be crawled by search engine robots (hence the name, "Robots") and indexed, so you never want to switch it off. The rest of these settings are just generic metadata you need not concern yourself with and you should leave alone.
301 Redirects – Redirect Joomla Plugin
The great thing about Joomla is that they make redirects, especially 301 redirects dead simple. You would need a 301 redirect if you encounter a 404 error in your website. A 301 redirect is the safest way to deal with a 404 error while remaining SEO friendly. 404 errors would occur, for example, because your website's structure changes after a redesign, a page no longer exists, you rename the Alias of your web page, 404 errors will appear as you manage your Joomla website and its content and its SEO features include fixing such 404 errors, etc. Just a bit more information, a 404 error is basically a "Page Not Found" error and you would collect these errors on the Google Search Console and the Redirects Component of your website.
It is sometimes necessary to deal with 404 errors because they interfere with a good user experience and cause people not to visit your website. Although 404 errors do not officially affect SEO generally, a large number of 404 errors may indicate some critical errors and you should go and fix it with a 301 Redirect, lest your SEO suffers.
Click "Update Links" and then all the selected 404s will be redirected to the desired page. As simple as that. Batch processing allows you to work through many pages very quickly. In our earlier web design days, we had accumulated 208 errors (404) because of a website overhaul. It was a great big headache, but thanks to the Redirects component, we made short work of the 404s and virtually eliminated all of our 404s. What would have taken several hours only took a few hours. Redirecting eventually brought results when our Google Analytics account started detecting increased traffic. Hence, even though most 404 errors will not interfere with your SEO, a large number of 404s may point to more serious problems, and you need to remedy it. It is features like this where we stand by our choice of CMS. Why bother installing additional plugins that may pose security threats, or may be of poor design if free, or even pay for something like a WordPress plugin if your CMS provides a robust solution upfront? SEO for Joomla is simple.
Conclusion
Joomla SEO functions are easily available without having to install additional extensions. We have covered three main topics, i.e. Joomla Website Settings, Metadata and 301 Redirects. All of these issues can be resolved or managed without anything else besides the existing Joomla CMS functionality. This is one respect where Joomla shines in comparison to WordPress. Joomla, even without additional extensions have extensive features. We hope this will aid you in implementing SEO on your Joomla website and prevent you from downloading any unnecessary additional Joomla extension.
Furthermore, if you are interested in Joomla, you might want to check out a Joomla hosting provider that offers so many benefits for your Joomla site. ASPHostPortal is one of the best Joomla hosting providers. With 100% Joomla hosting compatibility, you can rest easy knowing that your Joomla website will be safe, reliable and performance-optimized to-boot.