An Overview
Wix is a website builder with a gentle learning curve but yet powerful. Wix's designs are modern-looking and very flexible. However, building complex sites (e.g. social media, directories, etc) isn't possible. Instead, WordPress allows to virtually create any type of website, but technical knowledge and programming skills may be required.
Ease of Use
Wix is actually one of the easiest website builders to build a website with. Their editor is completely drag and drop, and super intuitive, especially for complete beginners. If you want to add more functionalities, you also have their App Market that lets you install features in one click.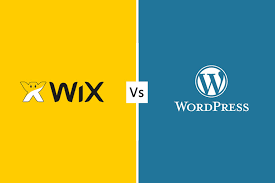 WordPress is also known for its extensions and plugins, but they're not always that easy to install or implement. Similarly, the whole software requires a tiny bit of technical knowledge, or at least the ability to follow some tutorials. And when things go wrong (not if), finding the fix can also become a bit of an issue. WordPress is doing its best to move into a more user-friendly direction with the Gutenberg update that added a building block editor. But it's still far away from being as easy as Wix.
Winner: clearly, Wix's site builder wins this one – this website builder is designed with user-friendliness in mind, building a website is extremely easy!
Designs & Flexibility
Wix comes with around 300 free templates. They are slick, modern, and segmented into categories (photographers, restaurants, blogs etc…). One downside is that they're not responsive, so you may need to re-arrange (using drag and drop) the elements to make your site look nice on phones. Now there is also Wix Code (read review), which lets you add JavaScript and APIs to your site. This way you can add custom interactions, for example.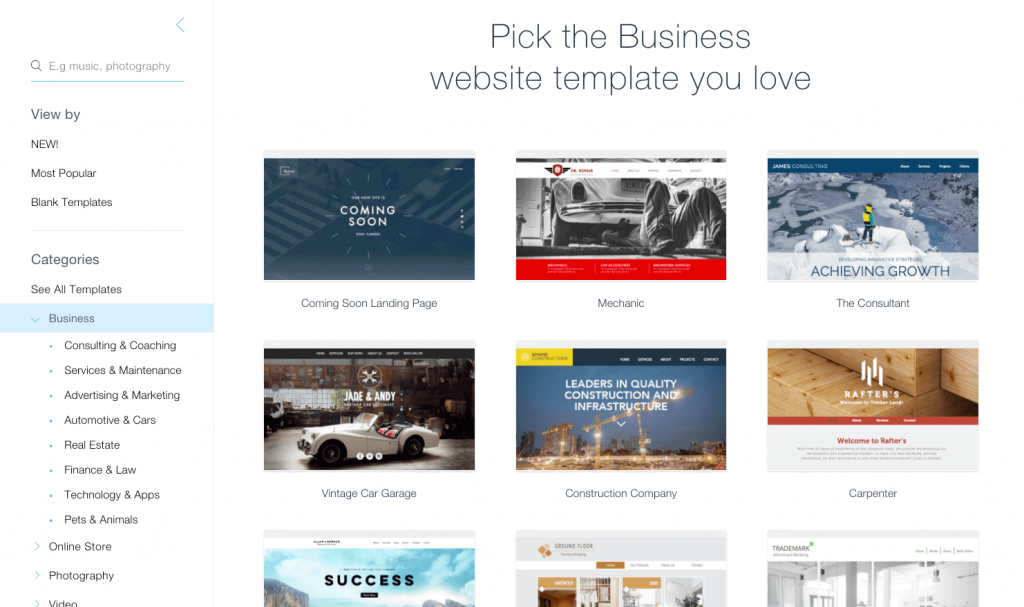 With WordPress, if you know CSS and HTML, or if you don't mind spending a few hours working out how to modify your template's code – you can get exactly the website you want. Plus, you will find tons of responsive WordPress themes online. They usually cost between $30 & $60 (have a quick look on Themeforest), and most of them are responsive.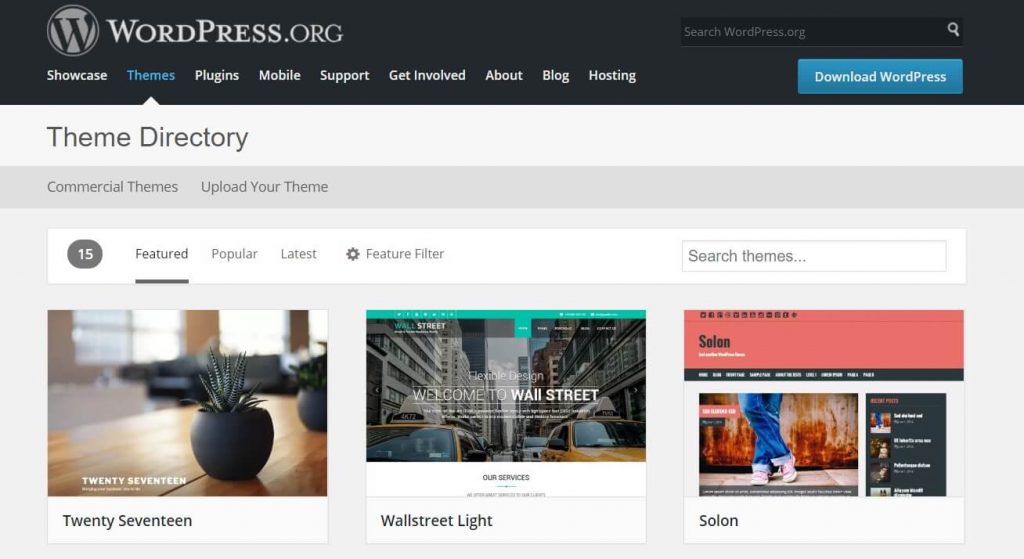 Winner: Kind of a draw. If you want complete control and are willing to tweak CSS and HTML code, WordPress. However once again, Wix is much better for complete beginners and you will still be able to customize your designs.
Ecommerce
You might have noticed Wix's dedicated online store section. It's very nice and all, and you can indeed sell your wares through a variety of payment options. However, there are a few downsides that make it better suited to small businesses. For instance, the shipping and tax options are quite limited. What's great is that it also supports digital goods and that it's one of the more affordable ecommerce tools.

With a WordPress website, you'll have none of these problems. That's provided you use a third party plugin of course, because otherwise there's nothing out of the box. We really like the WooCommerce plugin, and it should give you a good idea of what you can do with your online store: a lot, and pretty much everything with a bit of custom code. The plus is that it's free, but you do have to pay for extra features such as Authorize.net CC payment gateways for instance.
Winner: for a small store, you'll be ok with Wix. But if you are ambitious about your ecommerce or just want a full-featured solution, WordPress + Woocommerce is hard to beat.
SEO

This is another area where Wix does well compared with other best website builders. You can change the page title, alt attributes, have a great choice of headings and more. Be aware that the free plan doesn't allow a custom domain and this makes it extra hard to rank in search engines. The only complaints we have are that images are named automatically when you upload them.
Wix automatically gives them cryptic names (such as d4cccb26731e9~mv2.png) which could hurt image-based SEO websites like photography blogs. Also, you can customize blog posts URL, but not the whole thing so you sometimes end up with links like "wixsite.com/mysite/single-post/My-Blog-Post".
For WordPress, you have a few options out of the box, but we highly recommend adding a plugin for full SEO capabilities. Yoast SEO, for instance, is free and a very powerful tool, and Google Analyticator can also help with your Google Analytics integration.

Winner: with the right plugins, WordPress offers a bit more. However, Wix is still really good for most projects.
Blog

Wix's blog options are good, letting you create categories, tags, post scheduling and featuring related posts. One cool option is that you can choose an alternative title for mobile readers (in case it's too long and looks weird on small screens). The layout editor is less impressive than the website editor (e.g. no drag and drop), and the posting features are decent but limited.
You can add images, galleries, videos, GIFs and dividers, but for anything else, you'll have to use HTML, which can be a bit daunting for beginners. While we couldn't recommend Wix for hardcore bloggers, it's still certainly easier to use and customize than a WordPress blog.
WordPress has always been mainly focused on blogging options and that's why it has all the features you need out of the box such as tags, categories, RSS, etc… Of course, the way your blog looks will be linked to your theme, which means that certain features could break unless you tweak them manually. Here again, a bit of technical knowledge can go a long way in helping you get the powerful blog you need.
Winner: We'd have to say WordPress here. Even if Wix is ok, there are better options with other website builders, for example, Weebly & Squarespace.
Support

Wix offers phone support and has good forums. You can also find Wix articles and tutorials that are particularly helpful for beginners. For the very technical questions, you might expect a bit of back and forth, but they will get to the right answer eventually.
Quite simply, WordPress does not have any official support. You can find what you need on the community forums, but expect the answers to be hit and miss and sometimes buried in tons of comments.
Winner: Wix. No official support from WordPress.

Apps & Plugins

Wix has got an App Market where you can find, amongst 250 free and paid apps, tons of ways to expand your industry-specific website. This is excellent news for things like hotel booking systems, photographer image galleries or business invoicing for instance. It's worth noting that some of these apps are created by Wix themselves, others by unofficial developers.
WordPress is actually known for their plugins (e.g. social media, contact form, SEO, etc.). We've mentioned WooCommerce earlier, but it's just one of the thousands and thousands of ways in which you can completely transform a WordPress theme to fit your needs. Just like with Wix, some WordPress plugins are free and some can cost a small fortune. Once again, you might need a tiny bit of technical knowledge to update/install them.
Winner: It's a draw! WordPress plugins have the largest number of options, but Wix's apps are actually great, especially for industry-specific features.
Prices

With Wix, the prices are clear and paid monthly, yearly or bi-yearly. There's a wide variety of plans that include an increasing number of features and the web hosting:
Combo ($11/month)
Unlimited ($14/month)
Business Basic (for online stores) ($20/month)
(We are just showing a selection of the most popular plans here)
Wix are pushing their Unlimited plan, but the Combo plan is more than enough for most non-ecommerce projects as it's ad-free and lets you connect a domain name.
A WordPress site is technically free. However, you need to pay for the WordPress hosting. This can be as cheap as $4 per month with ASPHostPortal.
Prices can quickly add up if you buy a premium theme ($40 – $60), paid plugins, and most expensive of all, a developer's time for custom tweaks.
Winner: Another close call. Unless you need to hire a developer for your WordPress website, in which case the expense will shoot through the roof. But keep in mind that using Wix could save you a lot of time during which you could focus on more important tasks.
Conclusion

The perfect website builder, it goes without saying, depends on the website you need. If you want a powerful solution that will scale over the years, you should probably go for WordPress. Moreover, if you need complex features straight away, it's really your only option for creating powerful blogging, directories, multilingual sites, complex databases and FTP access.
However, Wix much better suited to smaller, informative websites. By that we mean anything that describes your industry, what you do and how to get in touch. The business-focused apps also make it a particularly good solution for Hotels, Restaurants and event-based services such as photography or wedding companies.
And it's also much better for complete beginners, offering drag and drop tools and good dedicated support, small details that can really save you a lot of time and headaches in the long term.