Are you planning to start a new blog? Not sure whether you should use WordPress or Blogger as your blog platform? Well, we can help.
WordPress and Blogger are the two most popular blogging platforms on the internet. They both let you create a blog easily; however, there are some big differences between them. Each one has its own pros and cons.
In this article, we will compare Blogger vs WordPress side by side and show you the differences that matter. Our goal is to help you decide which one is better for your needs.
What to Look for in Your Blog Platform?
Before we begin our WordPress vs. Blogger comparison, let's cover some important things to look for when choosing a blog platform.
Ease of Use: You need a simple and easy to use platform to quickly set up your blog, add content, and grow your audience.
Flexibility: You need a platform which lets you add more features or use more resources as your blog grows.
Monetization options: Do you want to make money online with your blog? If yes, then you need to choose a platform which has plenty of monetization options.
Support: You may need support while creating your blog, designing, or managing it. Check whether you will get support when you need it or not.
Plus, you need to consider cost comparison, design options, search engine optimization (SEO) opportunities, etc.
With that said, let's compare how WordPress and Blogger stack up against these requirements.
Overview – WordPress vs Blogger
As we mentioned above, WordPress and Blogger are the two most widely used blog management platforms in the world.
According to blog technology usage stats from BuiltWith, WordPress is the #1 most popular blog software used by about 35% of blogs in the top 1 million sites.
The same report shows Blogger as the second most popular platform used by about 1% of the blogs in the top 1 million sites.
We also compared the search terms 'WordPress' and 'Blogger' in Google Trends to see users' 'interest over time.'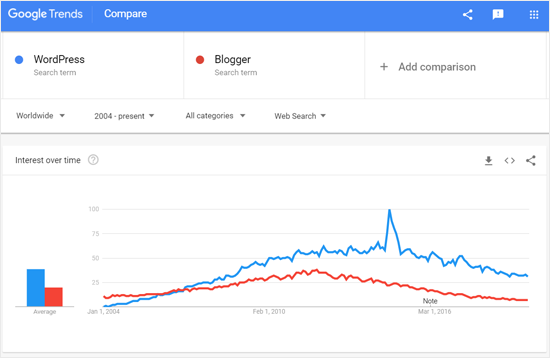 As shown in the screenshot above, WordPress steadily rose to popularity beating Blogger by 2005.
What is WordPress?
WordPress is a free open source software which allows you to easily create a website, blog, or an online store. Started In 2003, WordPress now powers more than 30% of all websites on the internet.
You can download the WordPress software for free and use it unlimited on as many sites as you want.
To create a blog in WordPress, you will need to buy a hosting plan and a domain name, so you can install WordPress.
What is Blogger?
Blogger is a free blogging service by Google. Started in 1999 by Pyra Labs, it was acquired by Google in 2003, and they redesigned it as the product it is today.
Blogger is a free blog hosting service which lets you create a blog completely free of cost. You also get a free Blogspot subdomain for your new blog.
For example, your blog's address will look like this: www.yourname.blogspot.com.
However, you can also connect your blog with a custom domain name. For that, you need to register a domain name through third-party domain registrars.
Ease of Use – Blogger vs WordPress
Most users who want to create a blog are not web developers. They are passionate writers and storytellers, or they are non-techy business owners. An easy to use blogging platform can empower them to present their stories to the world.
WordPress – Ease of Use
Setting up a blog in WordPress is a simple and quick process. It requires no coding skills, but it does require you to know how to point-and-click on a computer screen to setup WordPress and install WordPress apps.
Once the setup is done, you can choose a WordPress blog theme as per your requirement. A theme mostly determines the appearance of your blog in WordPress.
After that, you can install the best WordPress plugins to enhance your WordPress blog's features.
Adding content to WordPress is simple with default posts and pages.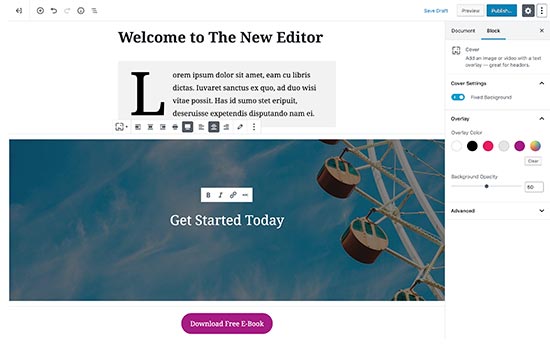 You can easily create text content, add images, videos, and other media to your WordPress posts and pages using the simple block editor.
Blogger – Ease of Use
Blogger is a simple blogging platform where you can create a blog in just a few minutes. You simply need a Google account to get started.
Go to Blogger website and then sign up with your Google account. After that, you can find a 'Create New Blog' option, where you need to click to start the process. Next, choose your blog title, blog address, and a theme.
That's all, and the setup will be done. Next, you can configure blog settings, edit your blog layout, and add posts.
The setup process is pretty simple; however, Blogger has some learning curve during theme customization. You cannot change much of the design unless you have some HTML skills.
Whereas in WordPress, you have drag and drop page builders that lets you customize everything.
Winner: Tie.
Ownership – Blogger vs WordPress
Ownership of your blog is another crucial aspect to consider while choosing a blog site.
Having full ownership of your blog gives you the freedom to do anything, including how to handle it, how to monetize it, and when to shut it down.
Who Owns Your Blog on Blogger?
Blogger is a blogging service provided by the tech giant Google. It is free, reliable most of the time, and has enough features to publish your content on the web.
However, it is not owned by you.
Google runs this service and has the right to shut it down or shut down your access to it at any time.
It is a point to be noted that Google has a history of abandoning projects without warning, such as Feedburner.
Who Owns Your Blog on WordPress?
With WordPress, you use a WordPress hosting provider to host your site. You are free to decide how long you want to run it and when you want to shut it down.
You own all your data, and you control what information you share with any third party.
Winner: WordPress.
Control and Flexibility – Blogger vs WordPress
Another important thing you need to consider is flexibility options. Does your blog site let you fully control the design and functionalities of your blog? Are you able to add new features to your blog?
Let's see how Blogger and WordPress compare on this aspect.
Control and Flexibility with Blogger
Blogger is a fine-tuned service with minimal tools allowing you to perform only specific tasks on your website. The things you can do on your Blogspot blog are limited, and there is no way you can extend them.
Blogger has a set of built-in gadgets (similar to WordPress widgets) to add features like ads, subscription links, contact form, etc. But these gadgets have limited functionality, and there are no alternatives available for them.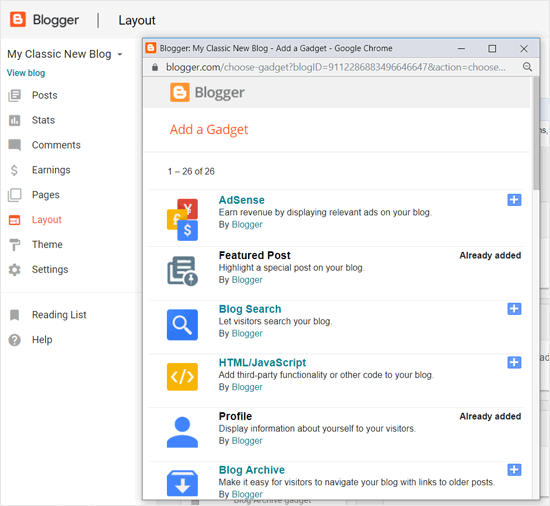 More frustrating is that advanced options like popups, eCommerce features, etc. aren't available on the Blogger platform.
Control and Flexibility Options with WordPress
WordPress is an open source software, so you can easily extend it to add new features. You can add almost any functionality imaginable to your WordPress blog with plugins and third-party integrations.
There are thousands of free and premium WordPress plugins which allow you to modify and extend the default features.
For example, adding a store to your website, creating a portfolio, making popups, adding social share buttons, etc.
If you visit the plugins page on WordPress.org, then you can find over 55,000+ free plugins there.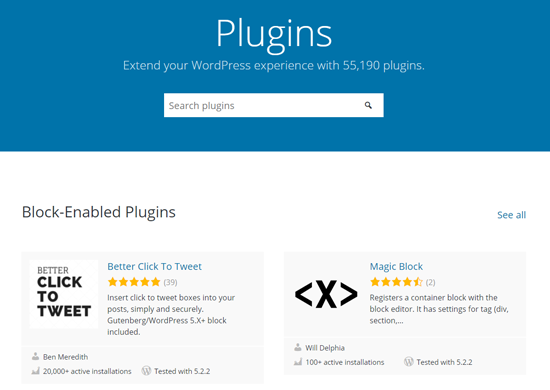 If you have coding skills, then you can also create your own custom plugins and use on your blog.
When comparing WordPress vs Blogger for flexibility and customization options, then WordPress is hands down the best long-term solution for any serious blogger/business owner.
Winner: WordPress.
Appearance and Design Options
The appearance or the design of your blog plays a vital role in attracting users and engaging them on your site. You need an elegant blog design to engage users, reduce bounce rate, and improve the time spent on your blog.
Blog Design Options in Blogger
Blogger, by default, only provides a limited set of templates to use. These templates look basic as they have been used on thousands of blogs.
You can modify the colors and layout of these templates using the built-in tools, but you cannot create your own layouts or make modifications.
There are some non-official Blogger templates available, but those templates are usually very low quality.
Fewer templates, basic customization options, and lack of layout choices make Blogger seriously fall behind in terms of design choices.
Blog Design Options in WordPress
In WordPress, there are thousands of free and premium WordPress themes which allow you to create professional-looking websites.
There is a WordPress theme for just about every kind of website. No matter what your site is about, you will find plenty of high-quality themes which are easy to modify and customize.
You can find a collection of 7000+ free WordPress themes on the official WordPress.org themes page. You can search 'blog' to view the themes designed for blogs. When we searched, we found more than 2000 free blog themes.
And, you can get more themes from third-party theme providers like Elegant Themes, Themify and Astra Themes.
Not only that, you can use the simple drag and drop WordPress page builders to design stunning landing pages easily in WordPress.
You can even create your own custom WordPress themes without writing any code.
Winner: WordPress.
Security – WordPress vs Blogger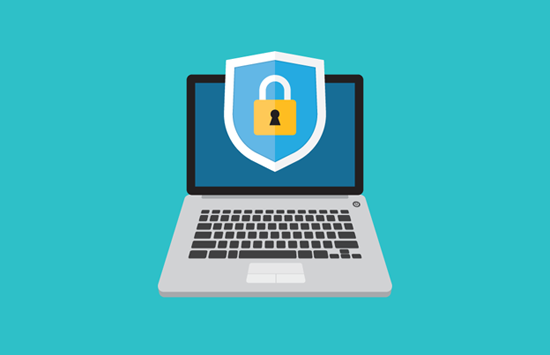 Security is another essential aspect you need to consider while selecting your blog platform. Unless you pick a secure platform, your investment and time can go to waste if your site is blacklisted or hacked.
Managing Security in Blogger
Using Blogger, you have the added advantage of Google's robust, secure platform. You don't need to worry about managing your server's resources, securing your blog, or creating backups.
But it also means that an entire service downtime will turn down your blog as well. You cannot do anything to resume your blog when the Blogger site is down.
Managing Security in WordPress
WordPress is quite secure, but since it is a self-hosted solution you are responsible for security and backups. There are plenty of WordPress plugins that make it easier for you.
For example, you can use UpdraftPlus or VaultPress for creating a backup, and Sucuri for web-application firewall to improve site security.
Winner: Tie.
Support – WordPress vs Blogger
Support is another critical factor to consider while choosing your blog platform. Check whether there is a reliable support system to help you out when you need it.
Support Options in Blogger
There is limited support available for Blogger. They have very basic documentation and a user's forum. In terms of support, your choices are very limited.
You can click on the Help option in your Blogger admin panel to see support tutorials as shown in the image below.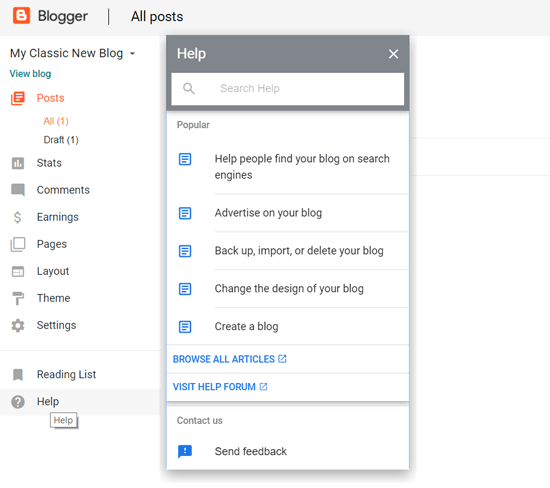 Since it is a free service, it is not possible for Google to provide adequate support to individual blog owners.
Support Options in WordPress
WordPress has a very active community support system. There are question-answer forums for each theme and plugin on WordPress.org. For example, this is the official support forum of the popular coming soon plugin SeedProd.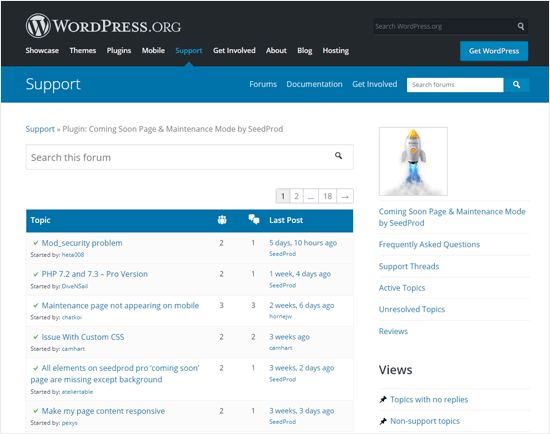 If you are using paid WordPress products, then you can get even more dedicated support from the respective product companies.
Plus, you can find online documentation, community forums, and IRC chatrooms, where you can get help from experienced WordPress users and developers. Our team of WordPress experts is also helping thousands of users via our Facebook group.
Apart from community support, there are many companies offering premium support for WordPress.
Winner: WordPress.
Future – Blogger vs WordPress
The future of your blogging platform determines how far you can go with your blog.
Future of Your Blog on Blogger
Blogger has not seen any major update since a very long time. We have seen Google kill their popular services such as Google Reader, Google Adsense for feeds, and FeedBurner.
Future of Blogger depends on Google, and they have the right to shut it down whenever they want. So, the future of your blog also depends on Google's decisions.
Future of Your Blog on WordPress
WordPress is an Open Source software which means its future is not dependent on one company or individual (Check out the history of WordPress). It is managed by a community of developers and users.
Being the world's most popular content management system, thousands of businesses around the globe depend on it. The future of WordPress is bright and reassuring.
Winner: WordPress.
Portability – WordPress vs Blogger
The purpose of this article is to help you choose the best platform, so you don't need to move your site. But mistakes can happen. So, it is essential to check whether your blog platform has secure options to move to another platform or not.
Portability of Your Blogger Blog
Moving your site from Blogger to a different platform is a complicated task. There is a significant risk that you will lose your SEO (search engine rankings), subscribers, and followers during the move.
Even though Blogger allows you to export your content, your data will stay on Google's servers for a very long time.
Portability of Your WordPress Blog
Using WordPress, you can move your site anywhere you want. You can move your WordPress site to a new host, change domain name, or even move your site to other content management systems.
Also, if you compare WordPress vs Blogger SEO, then WordPress offers way more SEO advantages.
Winner: WordPress.
Pricing – Blogger vs WordPress
Last but not least, comparing the cost of creating a blog and managing it is crucial.
Cost of Making a Blog in Blogger
Blogger is an entirely free blogging service. It provides free blog hosting and free Blogspot subdomain to get started. And, all the themes, gadgets, and other options are free as well.
If you want to use a custom domain name, then you will have to buy it from a domain registration company like Domain.com.
Blogger platform is very cost-effective however it lacks many features you will need to make your blog successful.
Winner: Tie.
Conclusion: Blogger vs WordPress – Which One Is Better?
WordPress and Blogger both are widely used blog platforms. But since you need to choose one, it comes down to the purpose of your blog entirely.
If your goal is to make a personal blog and share your stories, then you can choose a simple platform like Blogger.
But if you aim to make a professional blog which can earn a living, then you need a robust and scalable platform like WordPress.
With WordPress, you can add a shop to your blog, create membership website, and add tons of marketing tools to your blog, and earn money.
We hope this WordPress vs Blogger comparison helped you understand the pros and cons of each and helped you make the right decision for your blog.